Everyone is "in" with Webex Gestures
Webex is game changing in so many ways because it allows everyone to engage in their own way and have more personalized experiences, no matter where they work or chose to interact.
How to Optimize Meeting Spaces for Hybrid Work
Optimizing spaces isn't just about saving costs – it's about truly improving the experiences of the workforce, reducing friction, and allowing people to quickly and easily get work done.
Ask a Question | Answer a Question
Engage with your peers and Cisco about collaboration products such as contact center, IP telephony, collaboration applications and telepresence.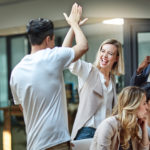 Visit our Webex Blog
See why millions of people trust Cisco Webex for team collaboration, video conferencing, online meetings, business growth, video chat, and more.