Webex Inside Any Mobile App
When we need real-time video meetings and messaging at our fingertips, Webex Inside Any Mobile App has you covered!
Ask a Question | Answer a Question
Engage with your peers and Cisco about collaboration products such as contact center, IP telephony, collaboration applications and telepresence.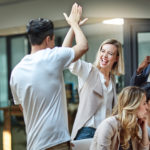 Visit our Webex Blog
See why millions of people trust Cisco Webex for team collaboration, video conferencing, online meetings, business growth, video chat, and more.