Cisco Announces Intent to Acquire Involvio
To provide a more robust experience for work and learning in this new hybrid future, Cisco is excited today to announce our intent to acquire Involvio LLC, a New York-based software company and leading student experience platform. 
Ask a Question | Answer a Question
Engage with your peers and Cisco about collaboration products such as contact center, IP telephony, collaboration applications and telepresence.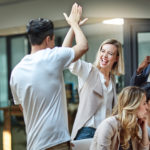 Visit our Webex Blog
See why millions of people trust Cisco Webex for team collaboration, video conferencing, online meetings, business growth, video chat, and more.