Collaboration
5 New Ways to Add Simplicity to Your Workday
Regardless of where work happens, we strive to bring simplicity to your workday. This month is packed full of new integrations and exciting feature additions to existing integrations focused on collaboration devices and messaging.
Ask a Question | Answer a Question
Engage with your peers and Cisco about collaboration products such as contact center, IP telephony, collaboration applications and telepresence.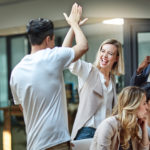 Visit our Webex Blog
See why millions of people trust Cisco Webex for team collaboration, video conferencing, online meetings, business growth, video chat, and more.