Today's lightning speed competitive business environment requires contact centers to think outside the box in delivering new and innovative ways to win and retain customers. To accomplish this, many businesses are considering the cloud as their next logical step in helping them achieve strategic contact center goals.
The cloud enables emerging technologies, faster deployment of new capabilities, elasticity of scale, and integration of channels and applications in the most secure and flexible way. According to a global survey conducted by Cisco this summer, 62% of contact center executives plan to implement a cloud contact center within the next 18 months. What is a cloud contact center?
One Market, Many Needs – And one solution doesn't fit all
Customer Experience has become the new global standard for business performance and differentiation – which means that the contact center, once merely considered a cost-center, is now the most mission critical customer-facing business function for companies large and small. Every contact center has a unique set of business goals and technology requirements, and one solution doesn't always fit all, even if it is in the cloud.  These range from simplicity and agility, with simple analytics and integrated calling, to larger, more advanced capabilities and deeper integration and customization across the enterprise.
And while the shift to cloud is undeniable and accelerating in the contact center space, enterprise adoption remains paltry relative to the larger market, as the largest and most complex contact centers continue to wait for a global, secure, scalable, and reliable solution from a stable cloud leader and brand they can trust.
Cisco is that brand, and we're addressing these requirements with the Webex Contact Center portfolio.
Webex Contact Center Portfolio
The Webex Contact Center portfolio is comprised of two cloud offerings specifically designed to meet the unique needs of small and large businesses.
Webex Contact Center Enterprise for enterprises who need a feature-rich solution that scales to tens of thousands of agents with added security and an extensive set of APIs for customization.
Webex Contact Center for companies who need an easy to deploy and maintain solution with integrated calling and enterprise-grade security.  Webex Contact Center can be used by any size company but is specifically sought after by large enterprises with distributed contact centers, and medium sized companies that need a streamlined solution.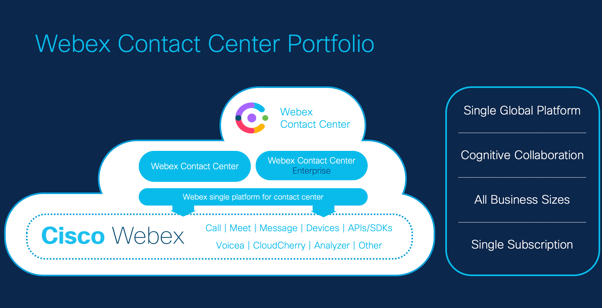 Webex Contact Center and Webex Contact Center Enterprise enable enriched customer engagement experiences between businesses and their customers, improving agent and customer experiences, and optimizing contact center performance with skills-based and precision queue routing. Leveraging the power of data analytics, the solutions can dynamically predict each customer's needs and match that need with the best agent, improving first contact resolution and customer satisfaction.
One of the key advantages of these two solutions is that they're built on the Webex Platform, an open and flexible cloud architecture which enables customers to easily incorporate other key cloud applications from Cisco such as Webex Calling, Webex Teams, Customer Journey Analyzer, and our recently acquired Voicea and CloudCherry offerings. This empowers agents with easy access to back-office experts and key information, giving them a more efficient and seamless experience while they're interacting with colleagues and customers.  The Webex Platform for Contact Center is a multi-tenant solution that is the under-pinning of both contact center offerings.  As a multi-tenant offering, it provides the feature velocity and innovation that companies desire when they look to the cloud.
Webex Contact Center for simplicity
Webex Contact Center is new to the APJC market, and is currently available in North America. New data centers will be opening in the UK, Germany and Australia. This solution is ideal for small and midsize companies due to its agile cloud-native design, intuitive agent desktop, common universal queueing and routing, Bot self-service, IVR, customer journey analytics, pre-built business app connectors, and its deep integration with Webex Calling for high quality calling and ease of management.  Webex Contact Center is a multi-tenant solution that also benefits from the underlying features in the multi-tenant Webex Platform for Contact Center.
Webex Contact Center Enterprise for customization
Webex Contact Center Enterprise will be available to the global market early next year. This robust cloud offer has been created in response to overwhelming demand from our existing customers and the broader market, for a Cisco owned and operated cloud solution that matches the maturity and sophistication of our on-premises Unified Contact Center Enterprise solution, at Cisco's unparalleled standards for secure global scale and reach.  Webex Contact Center Enterprise is a multi-instance solution that also benefits from the underlying features in the multi-tenant Webex Platform for Contact Center.
Key benefits of the Webex Contact Center portfolio include:
Cisco owned, managed, and operated data centers and cloud infrastructure
Full adherence to Cisco's market-leading security and privacy standards
Globally deployed data centers for local compliance with a new data center in Australia, and plans to rollout to Asia in the first half of next calendar year
Rich features including APIs for integration with 3rd party applications
Full complement of advanced applications available as cloud services
Wait, there's more
At our Cisco APJC Contact Centre Symposium event today we also shared our vision of the next generation cognitive contact center, highlighting two of Cisco's most recent acquisitions – Voicea and CloudCherry.
Voicea's Enterprise Voice Assistant (EVA) is bringing advanced speech recognition and transcription directly into the contact center, creating more intelligent moments between agents and their customers, streamlining call wrap-up, and enabling better agent training and coaching, among many other benefits.
CloudCherry is an AI-based customer experience management (CEM) solution which brings voice of the customer (VOC) and journey mapping capabilities directly into the customer experience. Customers can track, measure, and analyze the customer journey, well before and after the contact center interaction. This will help contact centers deliver predictive and proactive customer experiences that improve their Net Promoter Score (NPS) and Customer Satisfaction (CSAT).
Closing thoughts
These plans demonstrate our commitment to customers in the APJC region, and our continued leadership in the global cloud contact center market. We're excited about the possibilities these technologies are bringing to our customers, enabling them to transform their contact centers from cost centers to those which enable rich customer journeys powered by the cloud and data intelligence, empowering super agents augmented by AI, and connecting teams of experts to drive better customer experiences.
To learn more about Webex Contact Center, read our eBook. To learn more about Cisco Contact Center, visit our website.
---
Learn More
Delivering Magical Customer Experiences at Cisco Contact Center Summit 2019 and Beyond
Announcing the New Global, Scalable, and Cognitive Cloud-Based Webex Contact Center
Don't Let Your Contact Center Fall Into the Complexity Trap
Cisco Intends to Acquire CloudCherry to Enhance Cisco Contact Center Portfolio