Breaking Through for Mission Advantage
Join us as we unlock innovation to solve some of our country's most challenging problems. Start by downloading your copy of our new Cisco Innovation Challenge Idea Book and find out the winners of the challenge.
Government, Education, and Healthcare Sessions at Cisco Live 2023
Cisco can help accelerate the digital evolution across the government, healthcare, and education industries. Join us for in-depth workshops and on-demand sessions to explore critical priorities such as security resilience, hybrid work, simplifying IT and unifying the experience, and reimaging applications. 
Cisco Meraki Achieves FedRAMP® In Process Designation
Cisco Meraki is delighted to announce that we have begun the formal process to become authorized with the Federal Risk and Authorization Management Program (FedRAMP®). This is an important step in bringing our cloud-based platform, including the flagship Meraki networking products MX (security and SD-WAN), MS (switching), and MR (access points) to the U.S. Government.  
How to Pick the Right Wireless Technology for your Agency
WiFi, 5G, Backhaul, and LoRaWan - each fills a specific niche in government's wireless needs. But which should you pick? Find out as we show you how to select the "best fit" instead of a "forced fit" so you can maximize your investment in wireless.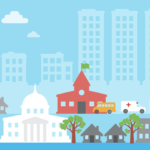 Explore our Government Solutions
Use our new interactive tool to discover how you can solve your government, public sector, cities and communities, and transportation challenges and accelerate your business transformation.