Moving Government Forward
Introducing Coffee and Conversations podcast series for government. The new podcast series will discuss today's most crucial issues and provide a holistic view of the Government environment to establish a secure, agile, and resilient foundation for government operations and resident services.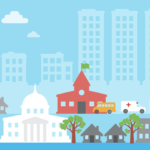 Explore our Government Solutions
Use our new interactive tool to discover how you can solve your government, public sector, cities and communities, and transportation challenges and accelerate your business transformation.