Comply to Connect: The Bridge to Zero Trust
The Comply to Connect (C2C) program is a bridge to Zero Trust access, and with the growth of Iot and IIoT devices it's now critical for DoD security. Learn all about C2C and selecting the right tools to get it done.
IPv6 and the OMB Mandate: What's Your Strategy?
The OMB mandate to transition to IPv6 means federal agencies must move quickly to make it happen. Discover the latest tips and resources to help your agency create a successful IPv6 strategy, all in our latest blog.
Public Funding Opportunities Can Support Sustainability Goals
Sustainability is key to public sector success. But where do you start? To help you out, we've put together the top best practices and offer up a key resource to make your journey easier. Take a few minutes today to get up to speed - and make a difference for people and our planet.
Finding the Balance: Mission Effectiveness & Resilience vs. Sustainability
As the United States Government shapes its Net Zero strategy, the Department of Defense (DoD) has an opportunity to double down on its investment in the system of networks that power two journeys - Digital Transformation and Net Zero. We call it 'Smart Zero'. In this blog, we will take a look at how mission and sustainability can be complementary.
Confronting Crisis, El Paso Helps
In this episode of Cisco's Coffee and Conversations podcast, we discuss how the City of El Paso is confronting crisis with the help of Cisco technology.
How to Leverage Multiple Funding Sources for Broadband
With $100 billion in funding sources for broadband now available, understanding all your options can get complicated. Cisco's Public Funding Office can help you navigate the flood of opportunities. Learn how in our latest blog.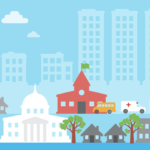 Explore our Government Solutions
Use our new interactive tool to discover how you can solve your government, public sector, cities and communities, and transportation challenges and accelerate your business transformation.