Cisco SD-WAN for Government Achieves FedRAMP "Authorization to Operate"
Cisco SD-WAN for Government Achieves FedRAMP "Authorization to Operate"
Cisco is pleased to announce FedRAMP Authorization to Operate (ATO) for our cloud-based Cisco SD-WAN for Government solution, enabling federal (and even state and local) government agencies to securely accelerate their IT modernization and cloud adoption.
Training the skilled workforce of the future
Training the skilled workforce of the future
Cisco teams up with Air & Space Forces Association to inspire K-12 students toward careers in cybersecurity or other science, technology, engineering, and mathematics (STEM) disciplines critical to our nation's future.
Key Priorities for State Governments in 2023
Key Priorities for State Governments in 2023
During POLITICO's "The Fifty: America's Governors," sponsored by Cisco, 3 key priorities for state governments in 2023 emerged. Learn more.
Empowering hybrid work – a governmental imperative
Because work is no longer where you go but what you do, the modern hybrid workplace includes the traditional office and any "workspace" an employee can contribute from. Government hybrid work requirements, however, can be more stringent than a commercial enterprise. See what Cisco is doing to help empower hybrid work in the government space.
Transforming IT Modernization
Learn how our new Optimization & Modernization approach can become the catalyst for innovation by using technology to shape, deliver, and continuously enhance future governmental agency capabilities, services, and mission and business outcomes.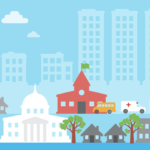 Explore our Government Solutions
Use our new interactive tool to discover how you can solve your government, public sector, cities and communities, and transportation challenges and accelerate your business transformation.