Leveraging Analytics for a Smarter, Healthier Campus
Your existing educational network may be ready to leverage analytics for a smarter, healthier campus. Cisco solutions like Cisco DNA Spaces and 5G Wi-Fi offerings can enable private and public sector entities to build out valuable services.
Internet2 Next Generation Infrastructure now Operational
Cisco has transitioned Internet2's research and education (R&E) network traffic to a Next Generation Infrastructure (NGI), a fifth-generation backbone that supports up to 32 terabits per segment (Tbps) throughput with zero congestion — a 4X increase in performance.
The Future of Student Services is Hybrid
As with teaching and learning, the pandemic has forced institutions to rapidly adopt virtual delivery of student services. They must make hybrid service delivery the standard to meet the needs and preferences of students, parents, faculty and staff.
Podcast Series: Celebrating Our Everyday Heroes in Education
Hear how our #everydayheros reinvented education in real-time. Through their remarkable experiences, big ideas on education, and actionable strategies for the classroom, educators around the world are being inspired to reimagine education.
Cisco at EDUCAUSE 2021: What to Know Before You Go
Join Cisco at EDUCAUSE 2021 and connect with us either in-person or virtually. You will learn first-hand how Cisco solutions for education are powering a more inclusive future of education for all. Here is all you need to know before you go.
Looking ahead to the future of hybrid education
How can schools and universities transform their institutions to support hybrid learning as a simple, sustainable solution for both educators and students? Learn about the latest solutions and tools as we look ahead to the future of hybrid education.
Why Cisco for Education?
Only Cisco can deliver complete education solutions that securely connect students, educators, and administrators—anywhere, any time, and on any device—so learning never stops.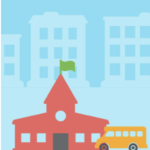 Explore our education solutions
Use our new interactive tool to discover how you can solve your higher education and k-12 challenges and accelerate business transformation.