Engaging students in the 'Next Normal'
As hybrid learning takes hold, K-12 schools have an unprecedented opportunity to reimagine what education can and should look like. Find out how the experts think the future of education will actually unfold.
Why Cisco for Education?
Only Cisco can deliver complete education solutions that securely connect students, educators, and administrators—anywhere, any time, and on any device—so learning never stops.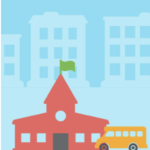 Explore our education solutions
Use our new interactive tool to discover how you can solve your higher education and k-12 challenges and accelerate business transformation.