Education
YELLOW Evening the Odds in Education with Cisco
One of the best ways Cisco can impact students globally is by partnering with innovative and prominent education institutions around the world. Learn how YELLOW and CIsco's partnership is evening the odds in education.
Why a new approach to security is needed in education
While data breaches are common across all industries, the risk for education is particularly acute given the sensitivity of students, faculty, staff, and research data. Learn more about what you can do to address your education institution's security needs.
Digital Experiences Key to Preparing for Enrollment Cliff
As universities face growing enrollment challenges, Cisco is committed to delivering a secure and robust digital education environments that increase student success and retention. Get a preview of what you will see at EDUCAUSE 2022 in Denver on October 25th - 28th.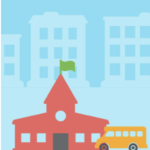 Explore our education solutions
Use our new interactive tool to discover how you can solve your higher education and k-12 challenges and accelerate business transformation.