Cisco Thanks Our Teachers Across the Globe
Cisco Thanks Our Teachers Across the Globe
Education Networks: Sound, Secure, and Robust
Education Networks: Sound, Secure, and Robust
Discover the essentials to keeping your education network sound, secure, and robust for learning and how AI is helping re-imagine education.
Saugus Union School District: "No Tech" to "Full Tech"
Saugus Union School District: "No Tech" to "Full Tech"
With some systems still running Windows 95-based platforms and a lack of wireless capabilities, Saugus Union School District realized the need to move from "no tech" to "full tech" blazingly fast - find out how they made it happen.
YELLOW Evening the Odds in Education with Cisco
One of the best ways Cisco can impact students globally is by partnering with innovative and prominent education institutions around the world. Learn how YELLOW and CIsco's partnership is evening the odds in education.
Why a new approach to security is needed in education
While data breaches are common across all industries, the risk for education is particularly acute given the sensitivity of students, faculty, staff, and research data. Learn more about what you can do to address your education institution's security needs.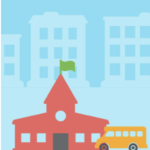 Explore our education solutions
Use our new interactive tool to discover how you can solve your higher education and k-12 challenges and accelerate business transformation.