Mobile World Congress 2014 is underway at Fira Gran Via in Barcelona, Spain.
As well as providing the WiFi network to the event, which has over 1200 access points covering the 2.6m sq feet  conference venues, Cisco had a number of exciting demos within the booth area in Hall 3.
Cisco's theme is around utilizing your network infrastructure for business outcomes, being more intelligent, utilizing analytics and delivering capabilities and monetization opportunities.
Utilizing location based information along with various other network related information interesting dashboards and views of the event are possible. These screens show how using the Cisco open infrastructure various sources of data are combined in to a graphical view of the Fira conference venue during day 1 of MWC 2014.
Here we can see a realtime view of the venue, a heat map of the congress halls, the most used apps, the traffic volumes, devices being used, the number of clients, social media traffic etc.
This gives organizations the ability to see what is possible when you can combine  important and valuable information  which combined can deliver significant value to their various businesses.
One example of combining location information with external data can be seen in the social media area. The following dashboard shows social media statistics, specifically twitter activity from day 1. Various components can be seek such as volumes, sentiments users etc…
When we combine this information with location data from Cisco's MSE and display the results on the map of the venue, and additional layer of valuable information can be shown.
The following example shows the posting to instagram from the venue, each posting can be located on the map providing not only the posting and picture, but also the location it was posted from.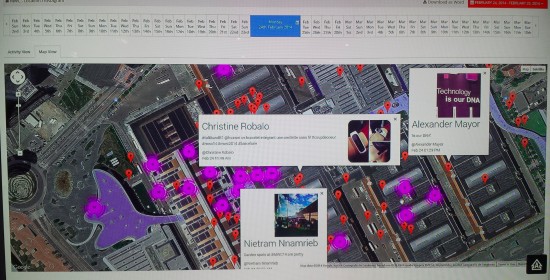 Customers to the Cisco booth are seeing what is now possible and starting to understand how this can translate into value in their businesses.
I will look at how location capabilities are being used in some of various other exciting Cisco demos in the coming days.
Interested in a location-based solution for your organization? Look no further than Cisco CMX. With features including CMX Analytics, CMX Connect, CMX for Facebook Wi-Fi and CMX Engage, there are endless possibilities for ways you can leverage the Wi-Fi network as a platform for connecting to mobile users in your venue.
For more information on CMX visit: www.cisco.com/go/cmx.