Last month I wrote about the Connected Mobile Experiences deployment in Nice. One of the most interesting things I saw at the iCity launch in Nice was a real cool application that can leverage the power of Cisco's Connected Mobile Experiences (CMX) solution to deliver very unique and exciting capabilities.
Imagine visiting a city and being able to leave your friends digital messages that only they can read when they get to a specific location. Or walking into a new area and getting localized information right then about a specific event. Or customizing signage in whatever language in native to the visitor. Imagine being able to create your own sticky note and making it public or private anytime anyplace electronically.
All of these things are just some of the possibilities that are now made available using 'digital graffiti' from a small startup in the South of France called Geekgaps.
All the city dignitaries, visiting VIP guests and the assembled press in Nice on the 17th of June were treated to a preview of this capability along the Connected Boulevard ( Boulevard Victor Hugo), where using the camera from your phone or tablet various digital graffiti messages could be seen on the street.
This proved a real eye opener to many assembled – showing the power of what is possible leveraging Cisco's CMX and Location Based Services.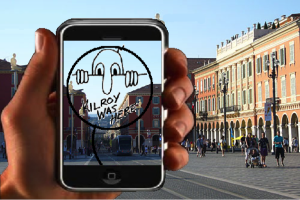 There are many possibilities with this and I fully expect them to be explored and trailed in Nice over the course of this exciting project. Cisco are very excited to see these possibilities made real. For more information on Connected Mobile Experiences, see www.cisco.com/go/cmx.