What if your biggest challenge in learning math was that you could not understand the words that the teacher used to convey math concepts? That the language in the math book was not your first language? Or that your learning disability involved difficulties with words and reading?
Dr. Matthew Peterson, co-founder and COO of MIND Research Institute, knows what that's like. He is dyslexic. But after completing an undergraduate triple major and a Ph.D. in visual neuroscience, he decided to try to figure out a way to teach math that minimizes the use of words, but maximizes student understanding and achievement.
Dr. Peterson's stunning innovation is called ST Math, a web-based, self-paced software program that uses language-free animation to help students grasp key math concepts. This resource is offered to students in addition to regular classroom instruction, twice a week.
It turns out that all students, regardless of language or culture of origin, gender, and in some cases even learning disability, do far better at math when they have additional help from solving the ST Math exercises.
As we outlined in an earlier blog post, Cisco's initial expansion support for ST Math in Silicon Valley and in Arizona has shown strong student performance gains of double to triple growth in math proficiency. Our newly supported 22-school Virginia ST Math pilot sought to replicate these successful outcomes.
We are pleased to report that the Year Two achievements in Arizona have continued to show double the improvement in math achievement versus students not using ST Math. Palomino Intermediate, one of the Cisco-funded Arizona schools, just received the inaugural Spotlight on Innovation award from the Arizona State Department of Education for achievements related to its use of ST Math in the 4th and 5th grades. With a student body of 44 percent English language learners, the school's progress from 39 percent passing state math proficiency tests to 48 percent passing shows how language-independent math instruction works according to Dr. Peterson's vision.
Also, the initial results just released this week from the ST Math Virginia pilot show an impressive triple growth rate in math scores versus similar schools without the program. This is similar to the results seen over two years in the schools where Cisco supported ST Math in underperforming Silicon Valley schools.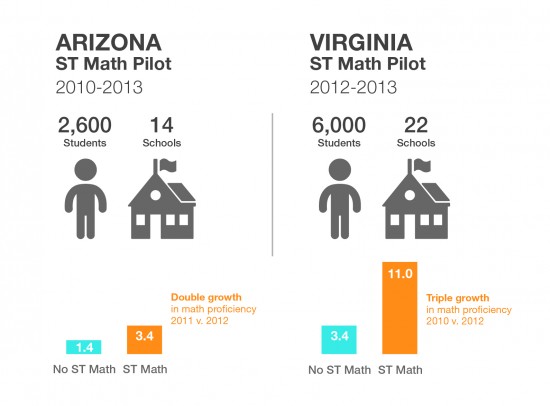 As an IT company, Cisco seeks to support technology-based solutions that help transform student achievement in science, technology, education, and math (STEM) in grades K-8, and that have outcomes that can be clearly measured and reported. Over the past decade, we have helped ST Math evolve from a limited client-server architecture to a fully cloud-based solution, with additional grade levels and a teacher training and student performance portal — all of which is mapped to individual state standards.
It is rare to find a grantee-partner organization with such consistent and compelling impact data, especially when serving economically disadvantaged students. And that clear evidence of increased student achievement is why we have been such committed long term supporters of ST Math.
But don't just take our word for it. External recognition of the achievements and effectiveness of ST Math has recently come in the form of endorsements by both Business Roundtable and Change the Equation. ST Math is the only offering that made both lists:
Taking the language barrier out of the equation helps make math understandable and fun for students. As one 4th grade student from Arizona says, "I'm not scared anymore when my teacher says we're going to do fractions." And another from 5th grade: "I really like [ST Math]…because it is very fun and challenging." The results in terms of student achievement speak for themselves.