Question: Is there still a need for more network capacity and performance enhancements to fixed and mobile networks?
Answer: Yes! And tomorrow's tactile Internet needs and requirements will be met by 5G, Wi-Fi6 and FTTH innovations that support emerging applications (and new services that are just in the ideation phase today).
At the beginning of February, I traveled to Cisco Live Barcelona and presented our Cisco Annual Internet Report tools at the launch zone as a pre-launch activity with our top-tier customers. Since then, working remotely and collaborating over video conferencing have been highly encouraged by companies worldwide. With reduced business travel, my team and I successfully briefed over 30 journalists, via a virtual roundtable conference, where we shared major findings of our new study — such as the projection that there will be 29.3 billion networked devices and connections (including IoT) and nearly 300 billion mobile applications downloaded by 2023.
Figure 1: The global proliferation of mobile applications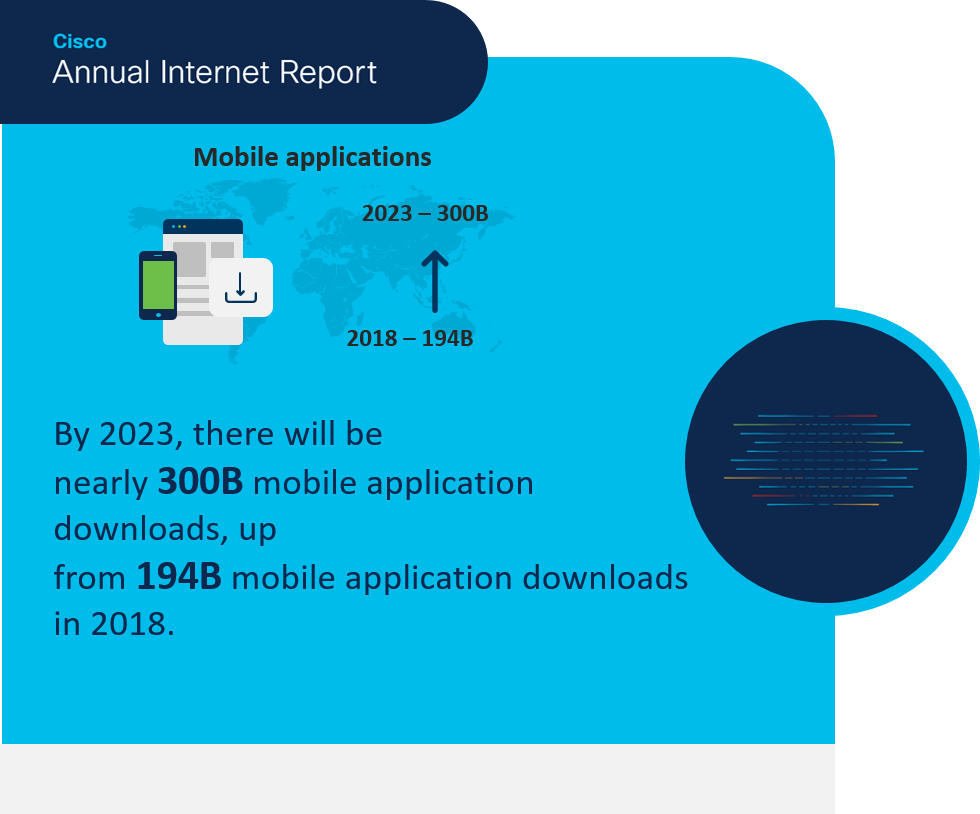 The need for the speed at which many of these applications need to be delivered is more important than ever. As a symbolic proof point, a leading mobile operator recently chose six-time Formula 1 racing world champion Lewis Hamilton to serve as the celebrity spokesperson launching their new 5G network. The Cisco Annual Internet Report projects that 11% of global mobile connections worldwide will be equipped with 5G capabilities and average 5G speeds will reach 575 Mbps by 2023.
These and other measurable 5G advancements will support tactile Internet applications such as telemedicine, connected car safety applications and UHD video conferencing. In addition to faster access networks, the tactile Internet will require edge computing that brings high-performance compute, expanded storage, and intelligent networking resources closer to users and devices than ever before.
The ability to support dense residential, commercial and enterprise deployments will be stronger with a 13-fold growth in Wi-Fi6 hotspots from 2020-2023. Our new study forecasts that Wi-Fi6 hotspots will be 11% of all public Wi-Fi hotspots by 2023.
Wi-Fi6 is a foundational and necessary complementary technology to 5G for IoT — extending the highest of quality of connected experiences to consumers and enterprises in formerly underserved areas. Mobile solutions can improve business productivity with open and seamless roaming across Wi-Fi6 and 5G. They also support personalized intent-based operations through enterprise managed services.
This rapid and continued increase in download speeds has driven investment in next-generation access technologies. On the fixed access front, reducing the length of the copper access line through fiber-to-the-cabinet (FTTCab) deployments, more advanced DSL technologies such as VDSL2 and Gfast can in theory increase speeds up to 1Gbps. There is a growing trend of replacing the copper access network altogether with fiber-to-the building/home (FTTB/FTTH). The below are average experienced download speeds, however upload speeds in Mbps and latency in milliseconds are significant factors in user experience of applications that are more tactile in nature (bi-directional communications).
With average global 5G speeds expected to reach 575 Mbps by 2023, 5G technology will disrupt the access networking market landscape. This disruption can help competitive operators looking to differentiate their mobile services and complement or bundle their fixed broadband offerings (true fixed/mobile convergence). Some network operators will deploy 5G strategies as an alternative solution to FTTH deployments —where FTTH CapEx costs are prohibitively high and 5G offers a more cost-effective solution to enter new regions or markets without laying extensive fiber or cable infrastructures.
Figure 2: The race for faster fixed broadband speeds Figure 3: 5G speeds will transform mobile experiences
Consumers do not buy 5G, DSL, or FTTH, they buy broadband services. They expect a certain quality of experience (QoE) based on the level of service they purchase (regardless of what access technology is being used). The focus should be on creating a variety of customer premise equipment (CPE) that allows a range of access technologies to be used (fixed, Wi-Fi, or cellular). Online performance and capabilities can be structured and sold differently to consumers and businesses with purpose-built CPE products that are designed and optimized for residential, enterprise, or small-to-medium business preferences. Having said that, with mobile technologies, what 4G has been to consumers, 5G will be for enterprises.
The major impact and growth of 4G was driven largely by smartphone users and their ability and appetite to adopt new applications and services on their personal devices. 5G will allows businesses to change the way they interact with their customers/clients and the world around them. 5G opens a new world of opportunities for service providers to partner with enterprises and service providers need to begin mobilizing their business models around 5G enterprise opportunities today.
The role of Artificial Intelligence (AI) and Machine Learning (ML)
AI/ML will create proactive networks in activation, assurance and infrastructure with 5G, Wi-Fi6, networking, compute and storage, that aim for AI platforms and applications. AI is projected to be utilized everywhere from the core to the edge to the cloud, making networks not just automated, but also predictive. There are more applications than ever, and more people and different type of machines using these applications.
And there's constant change in the business infrastructures, as data "centers" become more decentralized. The power to predict demand now translates into the need for Day 2 operations to be proactive and not reactive. Mass scale networking is needed to provide optimum end user experience as well as app delivery models that monitor, authenticate and secure data across all the devices and identify performance issues in a network before they happen.
I am excited about the transition from on-premise infrastructures to virtualized cloud solutions, growth in AI/ML in activation, assurance and the increased infrastructure capabilities with 5G, Wi-Fi6, networking, compute, storage etc. and all the emerging opportunities in industrial IoT. The relevance and value of network designs and operations with high-performance and cloud-enhanced network architectures along with enhancing the security posture of your network by measuring, auditing, verifying, and enforcing the trustworthiness of infrastructure is more paramount than ever before.
Cisco Annual Internet Report Resources