As more and more service providers and enterprises invest in Network Function Virtualization (NFV), the fast-evolving and maturing NFV technology poses special challenges for those who are looking to not only perform a proof-of-concept, but also operationalize their NFV initiative, and ultimately offer services to their customers.
If we consider the industry's vision of NFV deployment as specified by ETSI, it says you should be able to pick an NFV component from each vendor, and assume these would work together seamlessly.  The reality can be far from it, and this post will explore what you need to consider in your NFV deployment initiative, with a deeper dive in the area of NFV Orchestration.
Given that NFV standardization is not yet the reality, you need trusted vendors who can help you navigate the deployment and certification challenges, while still understanding if their recommendations are in alignment with your own long-term business goals.  It is important to do so, because the NFV market is not yet mature.  You may be able to work with one vendor that solves your problems today, but this vendor or their technology goes the way of Betamax tomorrow.
Let's take a look at the three major components of NFV Management and Orchestration (MANO) as specified by the standard body ETSI:
---
Component: NFV Orchestrator 
Technology Landscape: The standard specifies that an NFV orchestrator (NFVO) needs to support on-boarding, lifecycle, resource and policy management in VNF deployment. However, many VNFs do not comply to a standardized interface (APIs or files) for provisioning and license management.
Some of the NFVO solutions in the market let you write any custom scripts you want to deal to on-board each VNF. That may get you through proof-of-concept, but you risk ending up with a pile of unmaintainable provisioning scripts just as you do now with your physical network functions (PNFs).
The most pragmatic requirement to give your vendors now is to require that their NFV Orchestrator can on-board VNFs using standard descriptor files (e.g. VNFD), and that they have a concrete plan to address progressively the remaining NFVO requirements.
---
Component: VNF Manager        
Technology Landscape: VNF Manager provide lifecycle management for VNFs. As a product, it also suffers from the immaturity of VNFs. As many of the VNFs have their specific methods for provisioning and lifecycle management, they often require specially coded VNFM (s-VNFM). As you consider deploying more services based on VNFs, you are looking at a world with many s-VNFMs, which can be a pain to operationalize.
We already have customers asking us to give them a generic VNFM that works with ETSI-standard compliant VNFs, so they can run only one VNFM for VNF lifecycle management. They are also asking their VNF vendors to quit being "special" in how the VNFs are provisioned.
---
Component: Virtualized Infrastructure Manager (VIM)
Technology Landscape: Many service providers started out thinking by adopting OpenStack, they could have a VIM that is free of license cost and support their broad NFV initiatives. Then they realized that the VNFs and even their management tools are sensitive to the OpenStack distributions as well as release versions.
Here you really need to pick the VIM that your VNF vendors support, has a life ahead, and one that you will be able to hire people or find a vendor to support.
---
Knowing that our customers face these challenges, we build Cisco's NFV product offerings to address their needs.  These solutions are certified to work together, but at the same time, have also been deployed as standalone products integrating with other vendors' NFV Orchestrator, VNFM and VIM.
Cisco's NFV Orchestrator solution is built on Cisco Network Services Orchestrator (NSO), enabled by Tail-f and Cisco's Elastic Services Controller (ESC).  Continuing the tradition of Cisco NSO as a multi-vendor orchestration technology, the Cisco NFV Orchestrator solution has been proven to on-board simple and complex (multi-VM, multi-virtual deployment units) VNFs from over 20 vendors, supporting a broad range of VNF functions, including routing, vEPC, vPCRF, vIMS, load balancer, firewall, session border control and other security functions.  Cisco also offers an NFV Infrastructure (NFVI) solution based on OpenStack that has been hardened to support NFV requirements.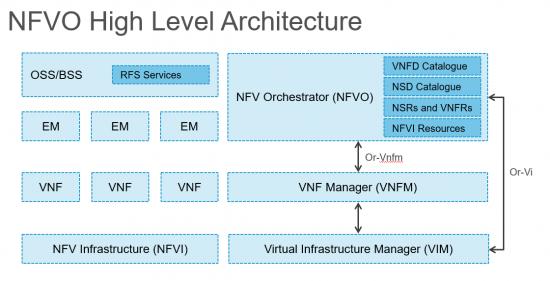 You might ask how the Cisco NFV orchestration solution manages to support so many vendors and such a broad range of functions.  We work with our customers, our partners, as well as industry certification bodies:
Aligning to standard body and 3rd party testing regimes

We achieve this by supporting the ETSI MANO guidelines, and continued testing with partners and customers
Successfully orchestrated VNFs from multiple vendors at ETSI's NFV Plugtest in February 2017 (stay tuned for formal results expected to be announced shortly).
Independent third party interoperability testing conducted by EANTC with multiple third party VNF vendors
To enhance Network Functions Virtualization (NFV) adoption, Cisco signed Memorandum of Understanding with Ericsson, Huawei and Nokia to create the NFV Interoperability Testing Initiative (NFV-ITI)
VNF testing by Cisco or partners

Cisco has a partner certification program in collaboration with Intel to test 3rd party VNFs on Cisco NFVI using Cisco NFV Orchestration (NSO/ESC)
Cisco AS has a customer-led VNF testing and performance qualification program to help customers adopt NFV.
Cisco is enabling ecosystem partners like WWT to facilitate a comprehensive customer-led VNF testing and performance characterization
Finally yet importantly, Cisco's VNF Manager (ESC) is VIM-agnostic, allowing you to deploy your VNFs to any cloud anywhere.  This is important as NFV orchestrators gain the smart to allocate VNFs to different VIMs based on policies or resource availability.  Choosing ESC helps to future-proof your NFV orchestration solution stack
As we wrap up this discussion of NFV deployment and orchestration, what we would like you to take away is that the state the MANO stack is still evolving.  The ETSI MANO standard provides guidelines, but until recently has also been often been challenging for Service Providers to operationally execute against.  Many of the earlier NFV proof-of-concepts have probably been built with one-off scripts and manual processes.  However, the technology of NFV is finally mature enough to onboard VNFs in a standard-compliant process.  We at Cisco think this is an exciting milestone in operationalizing NFV.
Find Out More
To learn what Cisco Network Services Orchestrator and Elastic Services Controller can do for your business, visit www.cisco.com/go/nso.
To find out more about Cisco's NFV Infrastructure (NFVI) solution can do for your business, visit www.cisco.com/go/nfvi