Next Monday marks the start of Cisco Live EMEAR in Barcelona and this year Cisco Customer Experience is showing up bigger and more connected than ever before.
From the mainstage keynote to the 85+ CX-led sessions, there are over a hundred opportunities to engage with Cisco CX and understand how our portfolio of solutions and offers gets you to your business outcomes faster at every stage of your technology journey.
Learn from our featured speakers
We're excited to have CX speakers showing up across the board at Cisco Live. This is content you won't want to miss.

Hear from Alistair Wildman, Head of CX EMEAR, in the opening keynote at Cisco Live Barcelona — Add the Opening Keynote to your calendar.
In his Innovation Talk, Alistair will share how with the right expertise, support, training, and predictive insights we are digitally connecting our customers. Tony Colon, the Head of Cisco CX Product Development, will join him to give a sneak peek into how CX is delivering on that through a real-time digital platform for customers. — Add the CX Innovation Talk to your calendar.
Denny Trevett, Kerry Partridge, and Bryan Bedford will be leading our CX Partner Session on how together, partners and Cisco CX are accelerating outcomes with our comprehensive lifecycle partner model — Add the CX Partner Session to your calendar.
Meet our Cisco CX Experts, Peter Malic and Juan Cazila, to understand how to use and support Cisco DNA Assurance capabilities to deliver proactive, predictive insights for your network during our Ask The Experts Session — Add the "Ask the Expert" session to your calendar.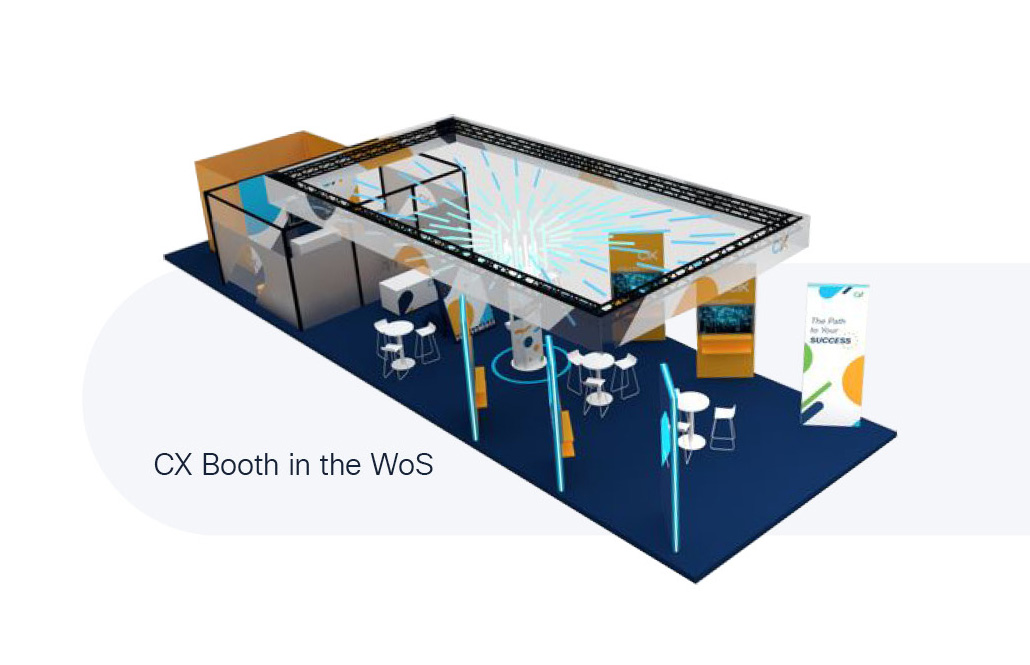 Build your path to success at the CX booth
The next best place to go will be the CX Booth in the World of Solutions (you can't miss us, right across from the Cisco Theatre!)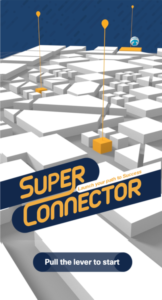 Once there, you'll most definitely want to play the augmented reality "Super Connector" game. The 80s-arcade-inspired game provides a personalized passport that defines your path to success with Cisco CX at Cisco Live.
Your journey may take you to one of our 6 CX demos in the Cisco Showcase, the Cisco CX Design & Incubation Boothwhere you can learn about our Customer and Partner Portals, or maybe even the Cisco Live Network Operations Center to speak with some of our CX colleagues who help build it every year. Get your passportstampedand return to the booth for a chance to win big!
If you choose to stay and hang around the CX booth (highly recommended) you'll have a chance to learn about CX through our customers' stories and the CX Success Portfolio.
And as a valued Partner, you can learn more about building a sustainable lifecycle practice and driving recurring revenue.
I'd also recommend you stay for one of our many 20 minute Mini "Ask the Expert" Sessions (schedule below).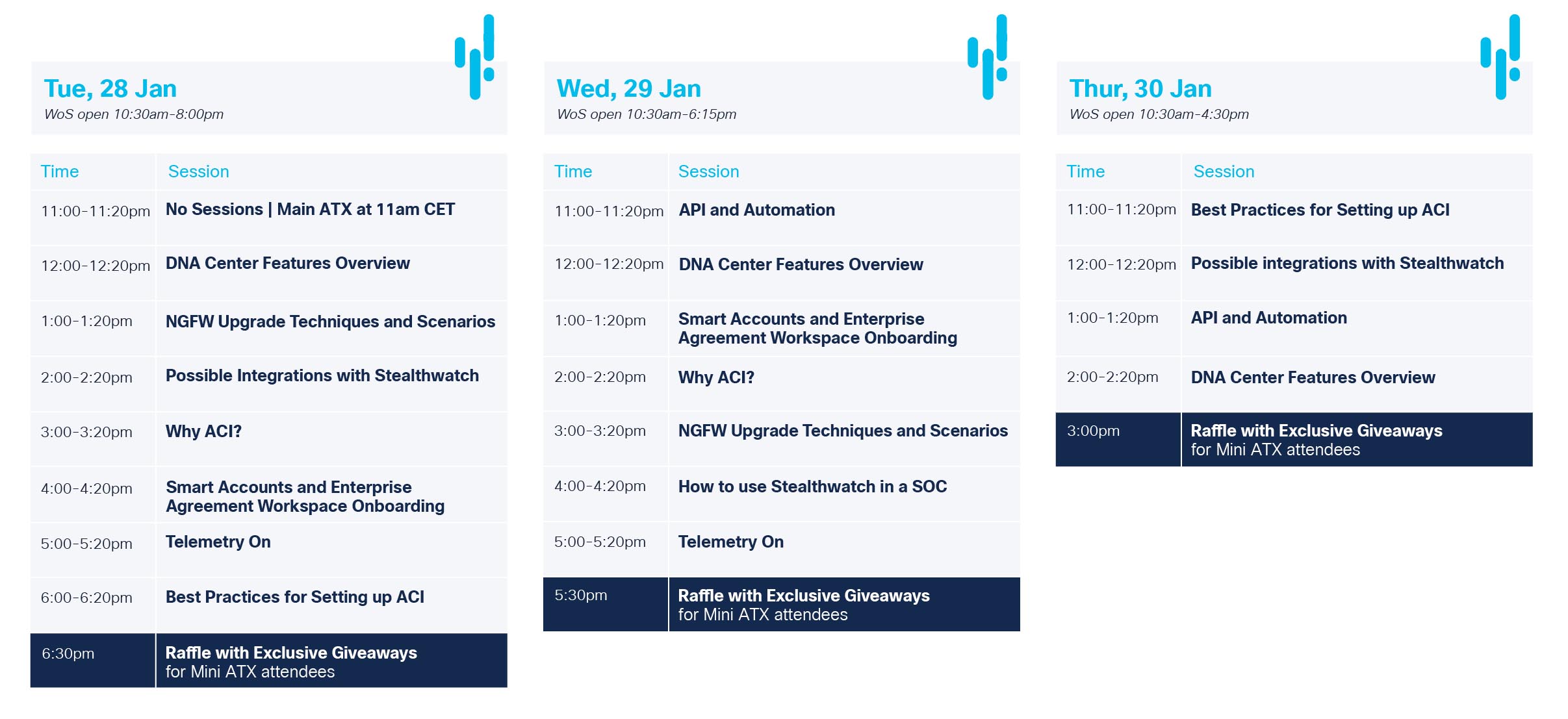 Understand how the CX portfolio and technologies can help you succeed

Click on the links below to register for a spot in each session:
Can't make it in person? Attend virtually
Stream Cisco Live here to catch the CX segments below on Cisco TV.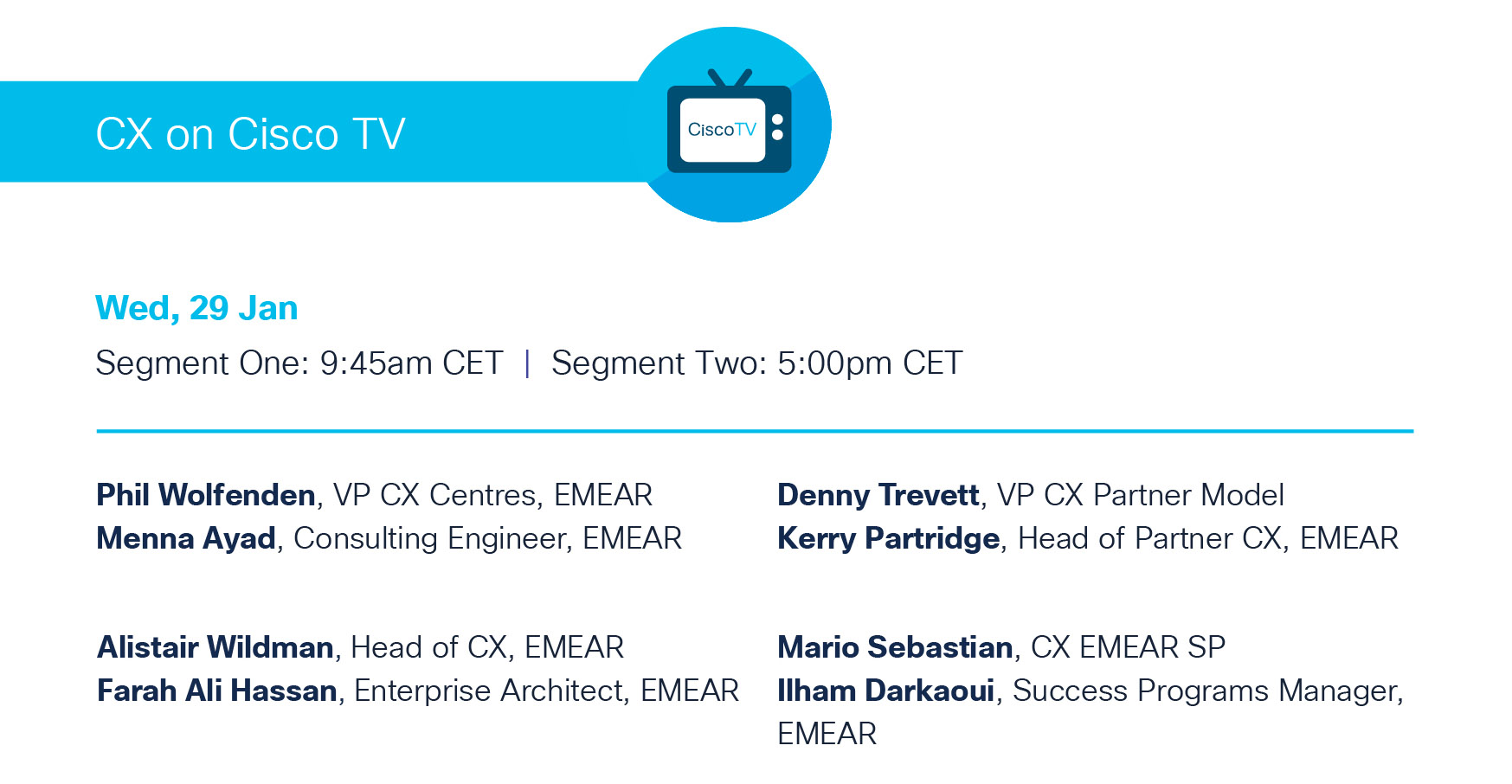 Catch more highlights and interviews with Adele Trombetta, VP of CX in Middle East & Africa, as she goes behind the scenes to provide a 360° view of Cisco Live. Watch on Facebook
We'll see you in Barcelona!
We are looking forward to sharing our CX story with you all in Barcelona. If you need quick access to all of the CX sessions, check out our handy "Know Before You Go" that has everything all in one place!