Retailers have put the last year in the rear-view mirror and are looking to the future. It is a future where customer experience is the new differentiator and empowered associates are the drivers of brand loyalty. This future places a premium on security and efficiency and it will require real-time insights across all operations to drive profitable business decisions.
Technology's role in this future will be on full display at NRF Retail Converge, taking place virtually, June 21-25.
NRF Retail Converge is a continuation of Retail's Big Show and another opportunity to bring together the industry's leading entrepreneurs, researchers, technical experts, and visionaries from across the globe. The five-day virtual experience offers meaningful sessions on loss prevention, supply chain, security, operations, marketing, customer experience and much more.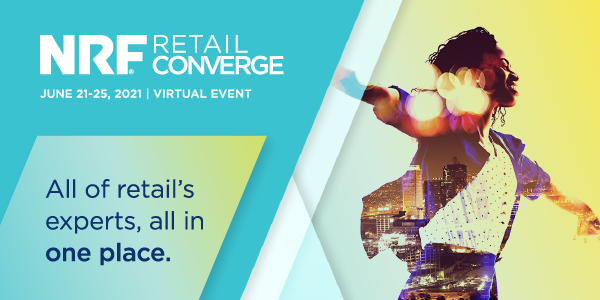 Here's what you need to do and what you need to know regarding Cisco at NRF Retail Converge.
Register using the Cisco code "CISCONRF" and explore our event microsite for the latest info.
Attend our Big Ideas Session: Kiva and Cisco: Creating Inclusive, Equitable Opportunities in Retail and Beyond
Join Chris Tsakalakis, CEO of Kiva, and Rachel Barger, Senior VP, Global Enterprise Sales, Cisco, for a different type of retail conversation. Together, they will share inspiring retail social impact stories, discuss how Kiva is mobilizing a world vision where all people have the power to improve their lives, and detail how a partnership with Cisco is driving this inclusive future.
An impactful component of the virtual event is that Cisco will be donating $25 to Kiva for every attendee who joins the Big Ideas Session or one of the live demos, up to $25,000.
Explore imimobile, AppDynamics and Cisco Meraki hosted demos throughout NRF.
The future of CX: How imimobile creates frictionless shopping experiences for brands
Take your digital strategies from good to great: Ensure flawless application performance with AppDynamics
Compete on user experience and win: Application visibility and business insights from AppDynamics
Activate the power of your retail location with the Meraki platform
Visit Cisco's marketplace listing during the event to check out numerous resources including a new white paper and new Cisco retail videos. Plus, schedule a meeting with our subject matter experts and executives via the virtual platform.
We look forward to having you join us June 21-25!