How can you quantify the real business value that customers are seeing from AI/ML technology in Cisco DNA Center? In a video case study, the IT staff of REWE Group, one of Europe's largest supermarket chains, breaks it down.
By now you've certainly heard from the experts at Cisco about the benefits of adding Cisco AI Network Analytics to your Cisco DNA Center install. This new module for Cisco DNA Center is included as part of the Cisco DNA Advantage licensing tier, and it can be downloaded, installed, and set up in just a couple hours. The addition of artificial intelligence and machine learning technology makes managing your network easier. It eliminates the plethora of trivial alerts while highlighting the important alerts that indicate connectivity or performance issues. This can save your team hours wasted by troubleshooting and daily management tasks. But any discussion on artificial intelligence and machine learning can get overly technical and a bit dry. This is why I was so impressed with the discussion that the IT team at REWE Group in Austria had regarding the subject. In one of our latest video case studies, the members of this team describe the business value that their company derives from the new AI/ML technology in Cisco DNA Center. Although they are all engineers, they don't talk about the ML-generated baseline for network performance, or how machine reasoning offers better guided remediation to problems; they just talk about what it means to the business!
As you watch the video below, take note of a couple quotes that stood out for me in particular:
Hans is discussing how the new Cisco DNA Center AI/ML capabilities are saving his team time from mundane troubleshooting and allowing them to work on projects that are core to the company business.
I'm sure most IT managers are feeling the time pinch as so many new projects are being added to the list of IT responsibilities. Digital technology has become critical to everyone's core business. This means that IT is now being asked to manage things like database migrations to data lake, transactional blockchain, AI manufacturing integrations, or customer-facing mobile apps. Finding time for these new projects, while managing an ever-more complex campus network can push IT resources to the limit. Even Hans' stoic expression can't hide the delight that comes with additional time resources.
Florian recognizes that AI/ML is helping him with the complexity of modern enterprise networks by reducing the workload on his team. He clearly has his finger on the pulse of his operation. He sees how artificial intelligence is saving his IT team time, and is wondering what other business workflows could be streamlined with this technology. This is a very astute insight.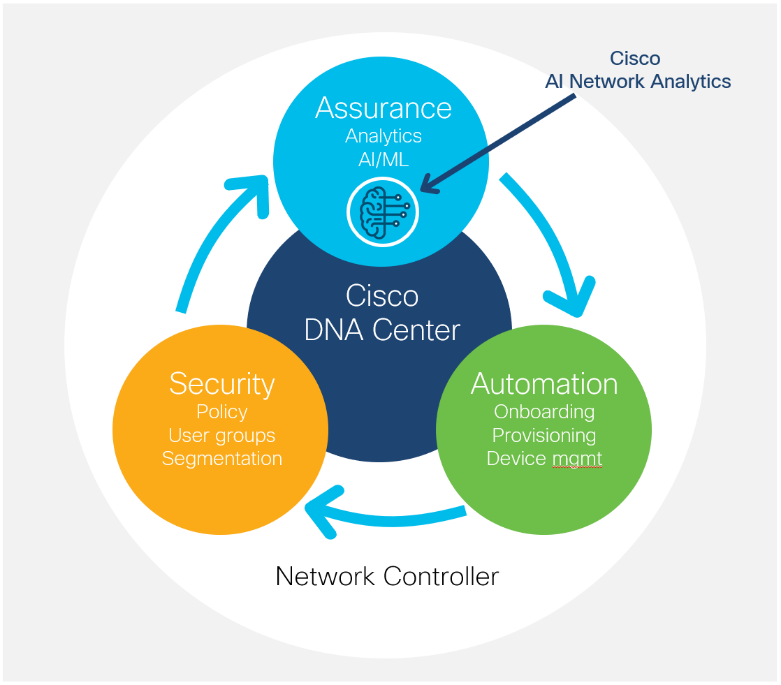 Recall that Cisco AI Network Analytics was added to Cisco DNA Center in June 2019. REWE was one of the first Cisco customers to install this new module, and it took just a few month for the team to see impactful business benefits—clear evidence of the technology's usefulness.
It also points to the efficiencies that can be found in a controller-led campus network architecture. Because Cisco DNA Center is so tightly integrated with the software in every network device, the added intelligence of AI/ML make every part of the network more responsive and agile. This diagram shows the location of the Cisco AI Network Analytics module within the assurance functionality of Cisco DNA Center. This module applies AI/ML technology to Cisco DNA Assurance to offer more personalized insights into the performance of the network. It is this functionality that provides time savings to IT teams. Notice how assurance, automation, and security all work together as a complete network controller within Cisco DNA Center.
If you're interested in reading more about Cisco's Controller-led architecture technology, check out Vivek Bhargava's blog, Network control for the digital age.
I really enjoyed listening to engineers talk about the business benefits of Cisco DNA Center; definitely a refreshing review from our friends in Austria.
---

Get the latest news about Cisco network analytics at
Additional Reading: Cisco AI Network Analytics: Making Networks Smarter and Simpler to Manage