I spend a lot of time with manufacturing leaders around the world and often our conversations focus on innovation. It used to be that innovation was simply about creating a great product. Now, in a climate of profound digital disruption and intense global market pressures, business model innovation is just as important. As a result, many manufacturers are exploring service-oriented revenue models to rise above the competition.
Shifting from a traditional focus on products to a service-oriented strategy can change the game by creating opportunities for new and significant revenue streams for your organization. It provides a pathway to expanding your portfolio to include value-added offerings that allow you to charge for business outcomes —such as performance or uptime — rather than physical assets.
Let's consider connected machines in this context. Connecting products like cars, home thermostats, espresso makers, or refrigerators, is becoming commonplace in the consumer market. This connectivity generates data that can trigger proactive maintenance, parts replacement, and orders for consumables such as air filters or coffee. The same potential exists for manufacturing. Connecting industrial machines creates great opportunities for business-to-business service models.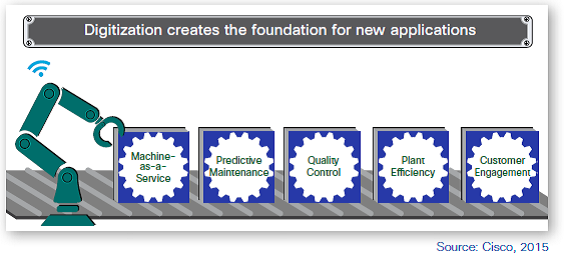 It used to be that machine builders would sell an industrial machine for a one-time fee. Now, however, industrial machine builders can offer a product that — once connected within the field, plant, or across an ecosystem — can be offered as a service in a recurring revenue model. By virtue of being connected, the machine's performance and utilization data enable new value-added offerings related to predictive maintenance, quality control, plant floor efficiency, and customer engagement.
Rolls Royce is a great example of the service-oriented revenue model in action. Rolls-Royce maintains and repairs jet engines for their customers, but instead of being paid to fix a problem, they are paid for continuous uptime. Rolls Royce makes more money when the planes are in the air than when they are grounded. This model provides great incentive for the company and great value for their customers — a win-win scenario.
FANUC, an industrial robot manufacturer, is another example. Using the Cisco Intercloud Fabric for Business, FANUC built a highly secure hybrid cloud to extend its existing data center to customers' premises. Manufacturing robots have sensors that deliver operational data from the manufacturing floor to the Cisco Intercloud. FANUC can analyze the data to gain visibility into robot performance. This solution makes it possible for FANUC to reduce their customer's manufacturing downtime and streamline robot operation.
In a services-oriented revenue model, you get paid for providing value related to asset utilization, employee productivity, sustainability, innovation, supply chain/logistics, or the customer experience. All these outcomes require greater cooperation and connectivity across expanded ecosystems, as data is captured, processed, and shared in new ways. Such outcome-based strategies enhance the customer relationship, given the level of insight into the end users' real-time challenges.
The shift to a services-oriented revenue model cannot happen overnight. This is a change that must be part of an organization-wide digital business transformation journey. To unlock the full potential of the digital opportunity, you'll need to converge your services journey with your digital journey to transform into a digital manufacturer.
Is it worth it? I believe so. With fundamental digital capabilities in place, you will have greater business agility to leapfrog competitors, create organizational efficiencies and reduce silos, as you build a new customer, partner, and organizational experience for the digital age.
Where are you on the journey to become a digital manufacturer?
To learn more: