We are living in the age of the "supertasker." At Cisco Live Cancun last week, I polled our audience and asked, "How many devices are you connected to at this moment?" The majority of the audience held three or four. However, some still had their hands up at five and six devices. Supertaskers are emerging as the next-generation workforce, integrating several new devices to increase their productivity—and they will not be the minority for long.
As the Internet of Everything (IoE) continues to evolve, we see increased momentum towards connecting the unconnected. The Fitbit, for example, reminds us that we need to achieve our daily step goal while maintaining our work-life balance. As more organizations digitize their business, we expect 50 billion objects to be connected to the Internet by 2020—and more and more of these devices will integrate into our ever-changing work lives.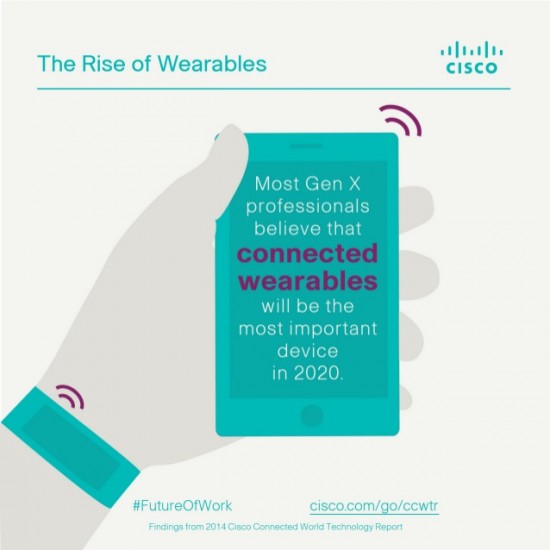 But IoE is not just about connecting new "things" to the network, it is also about the people, process, and data that come together to bring value to private enterprises and public sector organizations. And in a Cisco Consulting study to be published next month, 40 percent of respondents said that the way organizations handle data is the area they most need to improve. I agree with the importance of data, but data itself does not provide value to businesses. Analytics of the data provides insight that is more useful, but still not the major source of value. It is the action taken as a result of the insight that brings the true value of IoE. A cohesive IoE strategy is focused on taking data from its raw state to value-add actions.
As we start connecting billions of new devices, an increased burden is placed on our compute, network, and storage capabilities, which is driving rapid growth in cloud alternatives. By 2018, cloud will account for 78 percent of data center traffic, both public and private. Our customers inform us that their cloud environments are disparate and scattered across a myriad of providers, resulting in operational complexity and inefficiency. Cisco is focused on overcoming these roadblocks and driving business outcomes by minimizing the friction for IT to move across multiple private and public cloud networks.
Here at Cisco, we call our solution Fast IT, an evolved IT operating model to best enable IoE. Fast IT brings together our next-generation cloud solution with other core technologies such as Software Defined Networking (SDN). Through Fast IT, business leaders will be able to address some of their most important metrics, such as time to market. In today's marketplace, applications are the oxygen of business, so faster time to market can lead to greater market share and top line growth. Fast IT's ability to flexibly move workloads, paired with a mature governance model, will speed innovation and reinstate IT as the go-to provider for business and technology needs.
Cloud will remain at the center of discussion as we continue our journey through the era of digitization. But we will also see a significant move toward fog computing, as the need for lower cost and lower latency pushes data processing and analytics closer to the source.
Companies are investing heavily in the technologies that support "connecting the unconnected." In fact, up to 91 percent of executives in the sectors we surveyed said their investments will increase somewhat or significantly in the next three years. In the public sector we see a similar story, with Mexico investing $315 billion in infrastructure such as telecommunications from 2013 to 2018. The Cisco Live attendees were energized over these public and private investments in IoE technologies. We are very excited to see the strong potential in Mexico, supporting Gartner's claim that "Mexico will be the powerhouse of Data Centers in Latin America by 2018." The widespread investment in cloud and IoE across the globe indicates that many are betting on the influx of connected devices and rapid growth of IoE.
The supertasker is flourishing in the increasingly digitized workplace. As supertaskers move from representing a small group of innovators to becoming the majority of the workforce, the momentum of IoE will snowball, and the potential value for public and private organizations will be tremendous.
For more information about employees of the future, visit Connected Futures.