Over the past six months or so, many of my blogs have dealt with the hot topic of "digital disruption" — both as a threat and an opportunity for companies, regardless of industry.
Several industries already find themselves inside this swirling "Digital Vortex," which possesses the potential to reshape industries faster than perhaps any force in history. The power of the Digital Vortex is undeniable: it will displace nearly 4 of the top 10 incumbents by industry over the next five years, according to a 2015 study by the Global Center for Digital Business Transformation (DBT Center).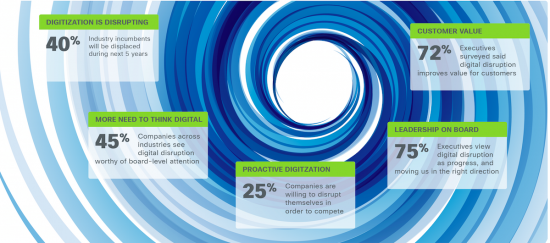 As part of its study, the DBT Center ranked 12 industries based on their potential for digital disruption. The No. 3- and No. 4-ranked industries — retail and financial services, respectively — provide a fascinating contrast in how industries are faring as they confront the Digital Vortex.
With apologies to Charles Dickens, the retail-financial services comparison could be titled "A Tale of Two Industries" when it comes to digital transformation. In the race against time inside the Digital Vortex, financial services is setting the pace, while retail is lagging behind, near the back of the pack.
This is one of many compelling insights from Cisco's new economic analysis titled "Where to Begin Your Journey to Digital Value in the Private Sector." Among other things, the study determined the amount of potential Digital Value at Stake that industries actually realized in 2015.
"Digital Value at Stake" is based on two components: 1) entirely new sources of value emanating from digital investments and innovations, and 2) value shifting among companies and industries based on their ability (or inability) to harness digital capabilities (in essence, value moving from "losers" to "winners").
Our analysis revealed that on average, financial services firms captured 29 percent of their potential Digital Value at Stake in 2015, while the average retail firm realized just 15 percent. Across all 16 private sector industries evaluated, firms realized an average of just 20 percent of their potential Digital Value at Stake in 2015 — leaving 80 percent "on the table."
Why did financial services capture almost twice as much Digital Value at Stake as retail in 2015?
According to our analysis, industries realizing the highest percentage of their potential Digital Value at Stake tend to share two characteristics:
First, they are IT- intensive — both in terms of the types of products and services they deliver, and how they are delivered. Their IT spending as a percentage of revenues is higher than that of most other industries. Financial services is the prime example of an IT-intensive industry. Retail is not.
Second, they display greater convergence between the IT and operational technology (OT) components of their businesses. These firms rely on consistent technology and process innovation to compete. Industries such as oil and gas (27 percent value realized) and manufacturing (24 percent) performed better than many others in Cisco's study because of their relatively high convergence of IT and OT. When this convergence doesn't occur, IT/OT "silos" hamper potential digital capabilities in critical areas such as collaboration, data integration and analytics, and cybersecurity.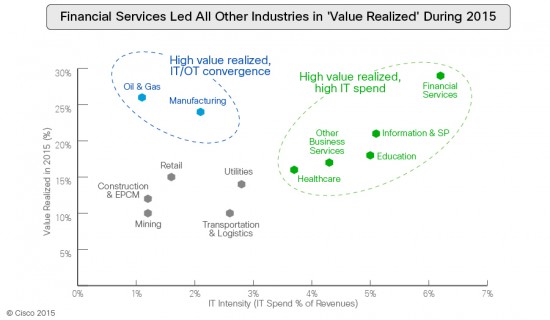 How can retail firms capture more of their potential digital value in the future?
Our new Digital Value at Stake analysis identifies the specific digital use cases that will drive the greatest value for retail firms — now, and in the future. Next week, we will reveal a detailed roadmap to digital value for retailers, mapping those use cases to specific business outcomes.
Using this roadmap and the power of digital, retailers can turn the tables on digital disruption while offering new sources of value to customers.