Today, industries are colliding and recombining in new ways. These collisions are yielding new competitive forms.
A new paper from the Global Center for Digital Business Transformation (DBT Center), a joint initiative between IMD and Cisco, calls this 'Value Vampires' and 'Value Vacancies.'
Value vampires are companies whose competitive advantage actually shrinks overall market size. These are not garden-variety disruptors that simply take market share from incumbents. Rather, their success leads to a decline in total market revenues or profits—or both. Value vampires create enormous value for customers, combining lower costs with better experiences, but they have the potential to drain their respective markets of revenue and profitability.
Perhaps the most striking example of the value vampire phenomenon has occurred in the recorded music industry, which hit its peak in value in 1999, with $28.6 billion in global revenue. The seeds of disruption had been sown with the advent of the compact disc (CD), which put studio-quality digital files in the hands of everyday consumers. All that was missing to catalyze the reaction was a format that could take that digital file, replicate it, and make it easy to distribute. Enter the MP3 format, which took the large amount of data from the CD, compressed it, and made it transferable. Then along came Napster, a file-sharing service launched in 1999 that enabled consumers to download music for free, and to share their music collection with others. Today, recording industry executives and musicians alike are still struggling to develop new business models to help them retain what value is left in the music industry.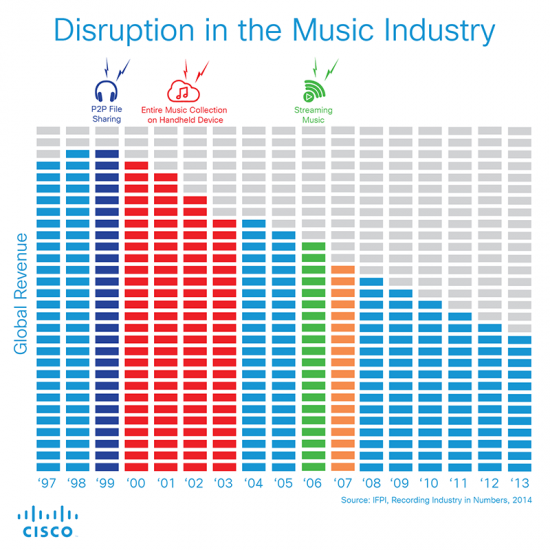 Value vampires illustrate the effect of the "Digital Vortex," in which all industries are moving inevitably toward a "digital center" where business models, offerings, and value chains are digitized to the maximum extent possible. According to the DBT Center's research, the disruption created by this digital transformation will displace four out of the top 10 incumbents across industries, with an average time to "substantial disruption" of just three years.
Digital disruption is not purely a bad-news story for incumbents, however. As industries move toward the center of the Digital Vortex they also have the possibility of capitalizing on "value vacancies." A value vacancy is a market opportunity that can be profitably exploited via digital disruption. These market opportunities can be in adjacent markets, entirely new markets, or digital enhancements to existing markets.
Value vacancies grow out of the continual industry unbundling and recombination that are characteristic of digital transformation, so they are fleeting by their very nature. They are best understood as opportunities to create cost value, experience value, or platform value for customers by exploiting digital tools and business models. To occupy value vacancies, companies must be well-versed in combinatorial disruption—using seemingly disconnected technologies and business models to create new markets and synergies.
Apple is a clear example of how a large enterprise can claim a value vacancy and be a disruptor, rather than a "disruptee." Apple is now the largest distributor of recorded music in the world—a business where it had no presence at all 15 years ago. The company recognized that the music industry was ripe for disruption, not only because incumbents were charging too much, but because they did not sell music the way customers wanted to buy it. Apple introduced the iPod and iTunes in 2001, creating a digitally enabled ecosystem that monetized digital music, and offered customers an integrated, elegant device on which to enjoy it, anytime, anywhere. The music industry will never be the same.
Today, however, Apple's music sales are declining, as the value vacancy it successfully carved out has created a wave of new innovators such as Pandora and Spotify. Like hotel vacancies, value vacancies are temporary, and those who occupy the space must be aware that eventually, someone else will want the room.
In an age of digital innovation and disruption, no company can afford to rest on its reputation, but must continuously seek out and invest in new value vacancies. Only companies that have cultivated digital business agility can successfully fend off value vampires and occupy one value vacancy after another. You can find out how by reading the complete paper.