This is a big week for the global energy industry, as thousands of energy leaders, experts, technologists, and policymakers gather in Houston, Texas, for the 34th annual CERAWeek conference, the premier international event for the industry. As a corporate sponsor of the event, it's also a big week for Cisco.
Just last week, Cisco released a new report focused on the need for digital transformation in the oil and gas industry. Based on a survey of oil and gas executives, analysts, and consultants in 14 countries, the paper validates CERAWeek's "oil day" theme, "Turning Point for the Oil Industry." For forward-thinking oil and gas companies, the price volatility and turbulence in the market could represent a turning point toward true digital transformation.
This digital transformation requires adoption of the Internet of Everything (IoE)—the networked connection of people, process, data, and things—throughout the oil and gas value chain. By becoming "digital technology companies," O&G firms can improve rig uptime and oil recovery rates, reduce oil spillage, boost employee productivity, and shrink costs.
Price declines of more than 50 percent since last June have upended the sector, but oil and gas (O&G) companies must avoid the temptation simply to cut costs and ride out the downturn. In fact, now is the time to invest. When asked about areas of investment, our survey respondents indicated that they are focusing on getting more out of what they already have. They named "operational efficiency of existing projects" and "maintenance of assets and infrastructure" as their top two areas of increased investment over the next 24 months.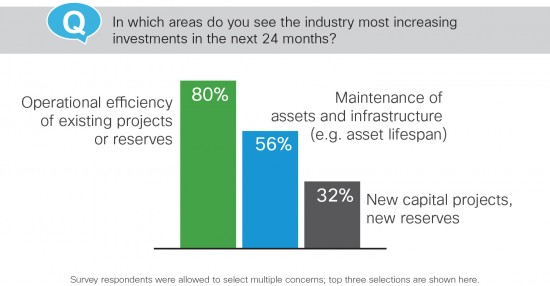 When companies invest in IoE, they gain significant business and operational advantages. Our study identified "faster problem resolution" as the No. 1 business benefit of IoE, while "improved production efficiency" was the top operational benefit.
Cisco Offers a Range of Oil and Gas Solutions for Upstream, Midstream, and Downstream Applications.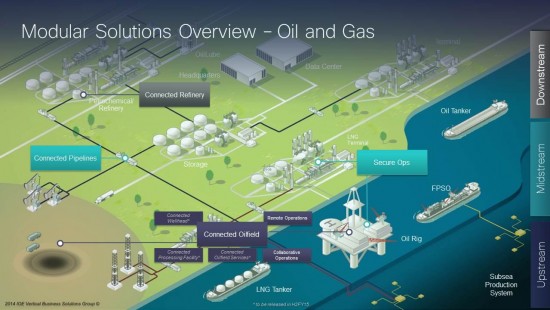 Cisco's Connected Oil and Gas solutions are part of the digital transformation O&G firms need—not just to survive the current market challenges, but to compete and grow long-term. Here are some of the business outcomes you can expect:
Lower costs; enable secure, reliable industrial controls: Cisco's Connected Pipelines solution provides visibility and control over pipelines, and protects assets from accidents and attacks. Real-Time Analytics solutions keep exploration and operations costs low by providing instant visibility into huge volumes of data. And Wireless Refinery Solutions interconnect a wide variety of applications and access sensor-level information in real time to comprehensively mange the refinery site.
Meet production targets; reduce downtime: Cisco's comprehensive collaboration capabilities can help address the "people" part of IoE. Collaborative Operations makes it easy for multiple users to share applications across multiple job sites, incorporating video surveillance, radio, chat, and web collaboration. Workers in the field and engineers in the office can collaborate easily in real time on ruggedized devices with Field Expert Collaboration for Oil and Gas.
Improve response to incidents; help keep people safe and secure: According to the Department of Homeland Security, 53 percent of all cybersecurity incidents in the six months ending in May 2013 occurred in the energy sector, and the number of attacks is increasing. Cisco's Secure Ops Solution enables easier management of cybersecurity risk in industrial control networks, and Connected Safety and Security helps protect people and property.
IoE is creating a whole new digital agenda for oil and gas, with the power to transform the industry. Cisco is uniquely qualified to guide you in your journey to digital transformation—beginning with an updated infrastructure and Fast IT architecture for efficiency and agility. In partnership with other leading industry suppliers, we deliver exceptional depth and breadth of security, connectivity, and visibility—end to end, from the oil rig to the board room.