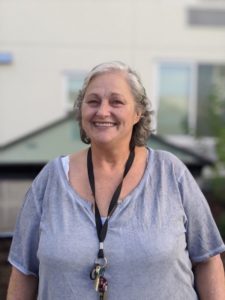 Every person who has experienced homelessness has a story. Before Joanne Richards was homeless, she raised three children. She describes herself at that time as the typical PTA soccer mom; she lived in Castro Valley, a Bay Area suburb, and drove a Chevy Suburban. "When I was raising my kids, I chose to stay home. That meant we budgeted everything really closely. It also meant when I finally left my marriage, I was unemployable for anything close to a living wage," Richards explained. After making what she describes as some bad choices, Richards was homeless for nine years. She utilized a variety of sleeping arrangements from a Dodge Caravan to a tent surrounded by a wooden structure.
"Homelessness can happen to anyone. I was married, I was the PTA mom and even worked at an elementary school. All of that can go away in the blink of an eye. It is easy to not be kind to the homeless if you don't think they are people, and it is easy to become invisible which is worse than people looking down on you. As a kid you think that being invisible is a super power but it isn't. If you humanize someone, it is a lot easier to be nice to them."
For many, the path to homelessness often starts with a significant unexpected expense. These expenses could include the loss of a job, a medical emergency, a separation or divorce, or the loss of a loved one. According to a U.S. Federal Reserve survey, nearly 40% of adults in the U.S. wouldn't be able to cover a $400 emergency. Not having an emergency fund means that millions of Americans are in a position where they couldn't afford a personal financial crisis.
Another contribution to homelessness is a lack of housing for extremely low-income people. The U.S. has a shortage of more than 7 million rental homes for individuals in this income bracket. As a result, 71% of extremely low-income renters spend more than 50% of their income on housing costs. High rent forces people to make life-altering choices between rent and other necessities like food, healthcare, and transportation. Richards explained that when she was homeless, it would cost $12 in bus fare to go to social services and back. "It doesn't sound like a lot, but it is when you have to decide between eating that day or going to social services. It is all about the less difficult choices," Richards said.
Cisco's headquarters are in Santa Clara County, California, where homelessness is exacerbated by the high cost of living. In this county, one would need to work five full-time minimum wage jobs in order to afford most apartments. In Santa Clara County, around 9,706 people are homeless; of those, 2,470 are chronically homeless. Here at Cisco, we believe that housing is a fundamental human right, and we are proud to partner with Destination: Home, a nonprofit committed to ending homelessness.
Destination Home: Making an Impact in our Backyard
Destination: Home uses a widely known best-practice to end homelessness based on years of research – it's called "Housing First." Research shows that communities save money by permanently housing someone first and providing social services in place, rather than requiring individuals to access social services first before they qualify for housing. And more importantly, it shows that the key to ending homelessness is to make housing the priority. When asked what permanent supportive housing means to Richards, she told us:
"It means everything. It means I am safe. Just to know I never have to be homeless again is just a weight lifted off my shoulders. I never want to feel like that again. Except for all of the aches and pains, I feel like a kid in college, the possibilities are endless. I just know that whatever the future is, it is going to look completely different.
When Housing First is combined with onsite supportive services like help with job placement, training, mental health counseling, and other health services, people have the tools they need to stay in their homes.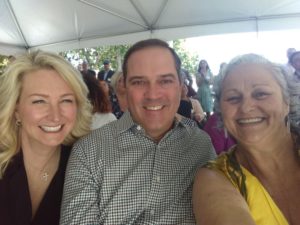 The workforce has changed a lot since Richards worked full-time. "The last time I was in the workforce full time word processors were the big new technology. That is why I am now back in school, I still don't know what I want to do when I grow up," Richards said.
She explained how once you are homeless, it is easy to give up and stay in your tent, and that is what she did for a long time. "When I say things like I lived in a tent for six years I think, 'how did I do that, and get up every day and still get dressed?,'" she said. "And I have to remind myself when I don't want to get up and study for that test, how lucky I am to get up and study for that test."
Destination: Home is committed to both putting people in homes and preventing people from becoming homeless. Their Homelessness Prevention System (HPS) program provides temporary financial assistance, eviction assistance, legal aid, and other services to low-income families or individuals who are struggling to maintain their housing, with a focus on the most-at-risk and vulnerable families. For example, prevention programs ensure that a family that is not able to make a rent payment does not become homeless. Ninety-seven percent of families that have received prevention services have remained stably housed while enrolled in the program. This program relies on 15 area organizations working in coordination to provide the supportive services needed to prevent homelessness.
In 2018, Destination: Home, with a $50 million donation from Cisco, launched the Supportive Housing and Innovation Fund. The fund was developed to support the production of permanent supportive housing, support programs to prevent people from becoming homeless, and pioneering technology to improve services for the homeless.
Over the past four years, Destination: Home has permanently housed nearly 8,000 people. Opened in May 2019, Second Street Studios is the first 100% permanent supportive housing development in San Jose, providing housing for 155 individuals. Cisco's grant furnished all 134 apartments, and Cisco workers helped to stock each household with move-in kits. Richards moved in last May and shared, "I want to thank Cisco and their employees for the time they spent putting the move-in kits in our units. Some of the residents moved in with nothing but the clothes on their backs."
How to Get Involved and Make a Difference  
A healthy and vibrant community starts when everyone has the key to their own homes. A recent national public opinion poll demonstrates that 85% of Americans believe safe and affordable housing should be a top national priority, and yet, many individuals fear affordable housing developments when they go up in the neighborhood.
So how can you get involved and how can you make a difference? First, get close to the issue and find out what is happening in your backyard. If you genuinely want to see an end to homelessness, it is essential to be supportive of solutions proposed in your community.
You can make a difference in the lives of those experiencing homelessness year-round – not just around the holidays, when many people tend to contribute. Donations are always needed, but here are a few other suggestions to help get you started:
Volunteer your time: The National Coalition for the Homeless has a directory to find an agency near you. There are many volunteer opportunities outside of serving food in a shelter. Think about the skills you offer and volunteer your time, such as helping to build a website or providing office support.
Get involved with policy: Destination: Home has a Housing Ready Communities Action Network program. This initiative brings together neighborhood groups and other community members to take action and support new housing. Interested in learning more about advocacy on the national level?  The National Low Income Housing Coalition has resources to learn how to support initiatives that focus on building more low-income housing.
Inform and recruit others: Getting your friends, family, neighbors, or coworkers involved can multiply your impact. Also, committing a group to volunteer once a month is a great way to give throughout the year. Need some advice on how to get the conversation started? The National Alliance to End Homelessness has information about homelessness for each state and on the national level.
The most important thing we can do as a society is to start treating people experiencing homelessness with kindness and respect. Also, no matter how small the gesture, everything you do does make a difference.
When asked what it was like to get the keys to her home, Richards said:
"It was better than winning the lottery and a lot rarer.  It is hard enough to find housing if you have two incomes, and references and all that, but to try to dig yourself out once you go out is impossible. I couldn't have done it without First Community Housing, Abode, and my case manager Patricia McClure who works for Santa Clara County Behavioral Health Services. All the universe aligned and I still look around my place and can hardly believe it."