Members of my Global Delivery Center (GDC) Public Sector Team at Cisco's campus in North Carolina recently spent an evening with more than 60 Girl Scouts, who all have a passion in STEM (science, technology, engineering, and mathematics).
Girl Scouts, North Carolina Coastal Pines (GS-NCCP) serves girls and adults in 41 counties in central and eastern North Carolina. Through this program, girls develop leadership skills while learning the important of personal responsibility, the value of goal setting, the spirit of teamwork, and the thrill of accomplishment.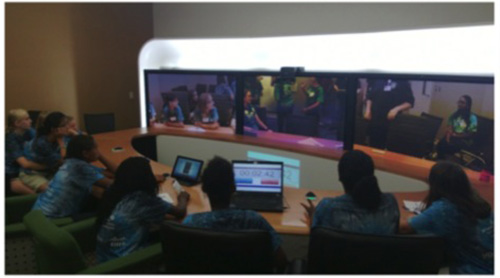 The girls visited Cisco on July 18, when 15 Cisco employees and college interns gave them a tour of Cisco's lab, TelePresence technology, and Security Operations. The Public Sector team led the TelePresence portion of the night, during which Cisco's TelePresence technology was shown off to the girls with an exciting game of charades and Pictionary.
At the end of the game, we shared with the girls how the TelePresence technology is used during our day-to-day lives at Cisco. They were amazed to hear that we were able to meet with people in other states and countries all over the world with such ease.
Cisco's Chief Technology and Strategy Officer, "Girls at a young age must have something that sparks their interest in technology or science." As the Girl Scouts entered the conference room to see another group of Girl Scouts in another building on three large screens, they shouted out beyond disbelief, "Oh! They can hear us?" By the end of the night, with quotes like "I want one of these at my house!" it was easy to see that Cisco definitely sparked every Girl Scouts' interest in technology.