The following is an excerpt from the 2019 CSR report.
Smallholder farmers produce more than 80 percent of the world's food. But they also make up 80 percent of the world's poorest people, which means they often lack the resources to grow their businesses. Digital Green, a Cisco social investment partner, is using technology to change this equation.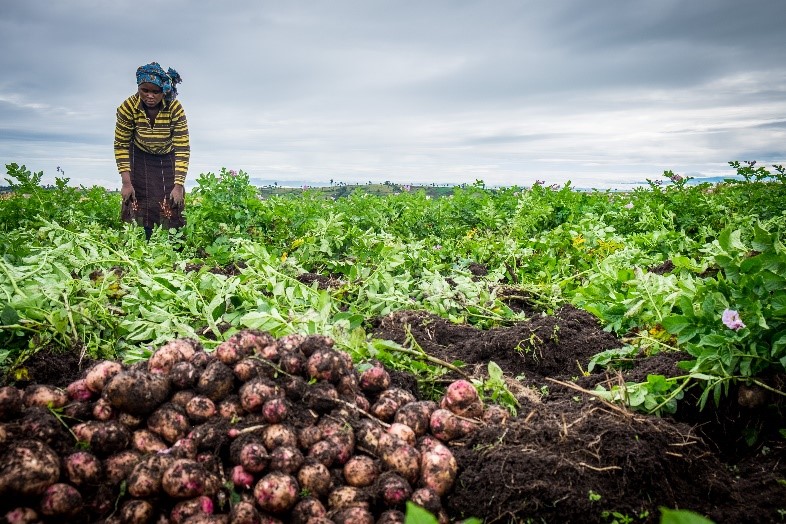 The nonprofit began in 2008 with a vision of helping smallholder farmers improve agricultural practices and boost their incomes. They began by sharing information with farmers on how to increase their yields, producing thousands of locally relevant videos in more than 50 languages. But they realized that more needed to be done to boost farmer incomes. Just as important as growing food is having a place to sell it. That's why Digital Green built the Loop app, which helps farmers aggregate their produce and get it to markets. It uses a learning algorithm to optimize vehicle routing so farmers get the best prices for their produce. With Loop, farmers can:

Investment from Cisco makes this possible. Cisco was the first donor to provide dedicated funding to support Loop. Farmers saw a gross increase in income of 17 percent as a result of using Loop. Our latest grant will help Loop spin off into a separate social enterprise. Through the collective power of technology and grassroots-level partnerships, Digital Green and Cisco are helping farmers lift themselves out of poverty.
Digital Green is a Cisco partner in our social investment focus area of critical human needs and disaster relief, along with Destination: Home, Mercy Corps and many others. Our Critical Human Needs and Disaster Relief portfolio focuses on increasing access to essentials like water, food, and housing. We also invest in technologies that help people in crisis, from delivering humanitarian aid to providing relief after natural disasters.
Cisco's research helps guide our grantmaking and related investments to make a meaningful impact. These investments in nonprofit partners enable them to use technology-based solutions to improve how they operate and reach underserved communities. And they support conditions for the communities they live in to thrive. Our approach is to invest in early-stage solutions. This is the stage where funding is most needed and where we can make the biggest difference. Funding from Cisco and the Cisco Foundation helps nonprofits apply technology to:
Create innovative solutions targeting individual and community needs
Implement proof-of-concept pilots to validate viability of solutions
Improve the delivery, quality, efficiency, and effectiveness of their products and services
Scale to reach more people
Replicate to multiple geographies globally
Validate social impact
Make progress toward financial sustainability
Use data for better decision-making
We also provide our nonprofit partners with ongoing consulting services, advisory support, and technical expertise in areas including:
Governance and operational structure
Organizational leadership capacity
Business planning and strategy development
Impact evaluation
Financial sustainability planning
It is important to confirm that the solutions we invest in are making a difference. We work closely with the nonprofits we fund to measure their effectiveness and impact. This measurement also provides partners with insights on how to improve. We measure both breadth (number of people reached) and depth (the impact their programs are making). Depth is measured with a standard set of metrics for each of our three investment focus areas, as well as custom metrics specific to our partners' social objectives. We also ensure that solutions serve communities that need it most. Grantees must validate that at least 65 percent of their programs' participants are from underrepresented and vulnerable population groups. They also provide quarterly reports to share progress against targets that we agree upon, such as client satisfaction.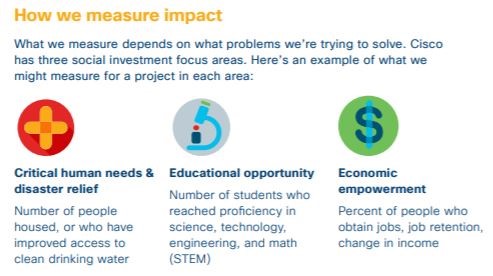 Download the full 2019 CSR report: