As Daniel O'Connell and his colleagues at Gartner report in their Unified Communications Worldwide 2017 Forecast Overview, "small-business cloud telephony adoption will nearly double from 2016 through 2021, to reach 45% of small businesses." He also explains that "small businesses will adopt cloud voice and conferencing faster than their large-enterprise counterparts through 2021, driven by capital budget constraints, increasingly compelling cloud options and limited internal IT resources."
So how can Service Providers take advantage of this opportunity? What do they need to know about the SMB buyer journey to properly target this particular market segment?
Defining the SMB Segment
In order to start to understand how to optimize the Service Provider customer engagement model for SMBs, we have to first get the definition of SMB correct. In the Service Provider world, we define SMBs in two distinct sub-segments:
● Micro-business = less than 10 seats
● SMB = between 10 and 100 seats
A Quick Note on the Micro-Business
While most of the tactics for engaging with an SMB customer overlap with the micro-business, there are some key differences.
Arguably, out of all the engagement models, the one for the micro-business has the most emphasis on a digital buyer journey. This is important because the revenue earned for a Service Provider on a micro-business is small, so the cost per sale has to remain low – hence the fit with an end-to-end digital journey, which has the lowest cost to serve on a per customer basis.
By removing a sales person from the equation with digital transacting, a Service Provider can effectively reduce the cost per sale. Many Service Providers achieve this by tweaking their B2C family plans slightly to suit micro-business' needs.
Important Considerations for SMB Customer Engagement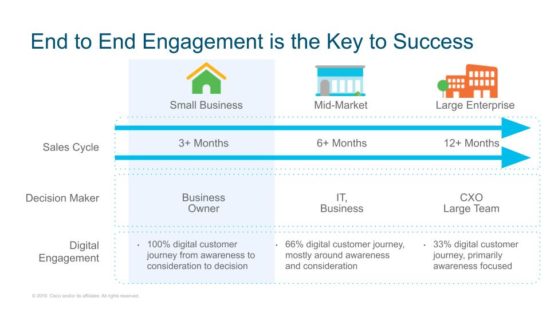 We've already come to understand the SMBs tendency to gravitate towards digital and cloud solutions. A few other important considerations when it comes to engaging with SMBs throughout their buyer journey:
●      A focus on the digital journey – Although all businesses are comfortable with researching solutions online, SMBs are actually more comfortable transacting online. They tend to find, research, evaluate, and eventually buy everything from email to Quickbooks to productivity apps – all with an end-to-end digital journey.
●      The buying cycle is quick – Many cloud calling solutions offer SMBs the ability to find, buy, and provision a solution online (without speaking to a sales person) in a matter of minutes (not hours, not days, and certainly not months).
●      Trying before buying – SMBs are generally more open to trying new things–being able to try a solution before they buy it is almost no longer a differentiator but simply the norm.
●      The overlapping of roles in small business – When it comes to SMBs, you may only be dealing with one point of contact throughout your buyer journey, and this POC is often the owner of the business.
Three Tips to Optimize for SMB Customer Engagement
Simplify the Offer
Keep it simple. Almost too simple. In fact, if you think it's too simple, you probably have it right. This is hard for us in the industry to do, but we should focus on getting this right.
Reduce the Number of Clicks
Remember – Amazon won the web because of its one-click purchase concept. While we can't get it down to one click, we should focus on reducing steps needed to get somebody signed up. We can always upsell or add/modify things once a customer is signed up, but we need to be ruthlessly focused on reducing time to becoming a customer.
Freemium Is a Way of Life
Similar to consumer models, SMBs (especially micro businesses) are used to try before you buy business models. While it may be hard to implement this with complex Telco services, there are ways to get a lead into a trial customer (perhaps for a subset of the offer) and then converting them into a full fledged paying customer down the road.
One Last Consideration
While we can expect that most of the customer journey for an SMB occurs online, it's not digitally exclusive. In my first of this four part blog series, I argued that many Service Providers incorrectly assume that modern customer engagement happens entirely online. But the reality is, when done correctly, customer engagement occurs at every interaction with your customers throughout the buying journey–whether that interaction happens to be online or not. It's worth restating – we may live in a digital first world, but we don't live in a digital-only world.
---
Want to learn more? Cisco recently launched a new program, the Digital Accelerator for Service Providers, to help Service Providers improve customer engagement along each part of the customer journey.