Info in the 'cloud' can help when stranded …or planning ahead  
Many of us dream about getting away from it all while on vacation. But those days may be long gone as more of us pack our smartphone when we hit the road. Add a tablet or two to your carry on and you'd rather lose your underwear than this bag.
So despite any desire to unplug, stay connected for all the cool travel apps that may make the difference between seeing George Clooney's villa on Lake Como from a travel brochure or in person by finding it say on Trip Advisor's mobile app.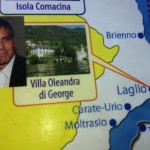 Actor George Clooney's Villa on Lake Como
Smartphone apps are great for having information (literally) at your fingertips. Apps like Kayak and Hotel Tonight often have hotel rates cheaper than you'd find on web sites – certainly on a hotel's web site — and this you have to love:  They display the rates for international hotels in U.S dollars.
| | |
| --- | --- |
| Best Western Venice | Best Western Venice on Kayak |
Of course you need to be on the Internet to access many apps, but some like Trip Advisor's offline city guides you can download while on Wi-Fi and use later when you're not online.
One of the best things to come along for the international traveler is an app called Viber that uses VoIP technology so you escape high roaming charges. You get FREE text messaging and phone calls …but anyone you communicate with must also have Viber.
When you are connected to the Internet, travel apps work so well because they reside in the cloud where content is updated dynamically in real time, giving you access to the latest information. My Facebook friend and Cisco colleague Guido Jouret used this to his advantage when his long flight to SFO was diverted recently after a European vacation.

Once on the ground, try some of these:
Peek isn't an app yet but a very new web-based travel guide with great ideas for activities in various cities, and even includes live chat with a travel expert.
AroundMe tells you all the points of interest located near you. It detects your current location, and lets you select from categories like bars, cafés, hospitals, and hotels to find what you like.
Mtrip guide/trip planner generates auto itineraries of places to go according to types of places you enjoy.
Orient gives you a compass view of certain locations nearby. If you're doing a walking tour of a city, Orient shows you the directions and distance to of your destinations.
World Lens is for both iphones and android phones and lets you point your smartphone's video camera at a word on a sign and watch as it's translated from one language to another.
Expensify keeps track of your purchases and transactions by syncing with your credit cards and bank accounts. It also acts as a receipt scanner by using your phone's camera. After your trip, you're sent a PDF report of all your spending.
For news on my friend Guido's trip home from Europe, I turned to my smartphone's Facebook app …and there he was, almost home.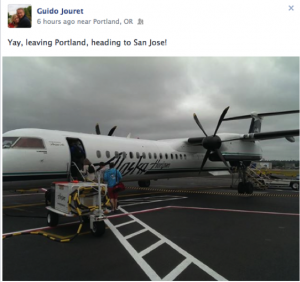 Please send me your comments and how you use the Internet during your summer travels so I can use them on my next vacation.
Mary