Every year the Cisco Live team strives to add value to the attendee experience. This year, working closely with Global Partner Marketing and the Global Partner Organization, the Cisco team has done just that. At Cisco Live Europe we are focused on encouraging and facilitating Partner to Partner and Partner to Customer use cases to ultimately accelerate business.
With one of the world's largest and successful partner ecosystems, we at Cisco strive to find new and innovative ways to help partners become successful and reach new lines of business with their products. With all that being said, at Cisco Live Europe we will be introducing one of our latest partner tools, PeerConnect.
PeerConnect – CLEUR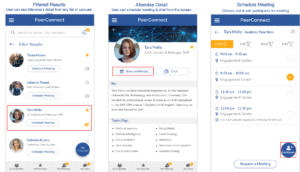 Embedded in the CLEUR event app will be a new feature called PeerConnect. Using state-of-the-art AI/ML technologies powered by TurnoutNow's algorithms, the new tool will analyze attendee, partner and Cisco behaviors and business priorities to ensure that everyone matches with the right person at the right time.
For General Attendees and Customers
PeerConnect gives general attendees and customers a new view of Cisco Live. Customers and Attendees through PeerConnect will be able to match with other Customers to discuss everything from their favorite book to their most recent technological needs and solutions. Customers and Attendees also have the opportunity to match with Cisco Partners to discuss features, capabilities, needs, implementation and more.
For Partners
PeerConnect also provides partners with direct access to all other partner types at Cisco Live. Using a small set of matchmaking key phrases, PeerConnect will connect partners that are looking to gain expertise, reach new buying centers, develop solutions, build uses cases, and share best practices together. Partners also get access to Cisco experts allowing them to better align for the future and transform their business with Cisco. 
How to make the most of the Application
Open new "PeerConnect" feature on the Cisco Live Barcelona app and opt into the match making experience
Type your suggested connection topics into the app to get access to your best matches
Use some of these example matchmaking key phrases: 'establishing/augmenting a CX practice', 'DevNet /programmability', 'new buying centers', 'sales plays', 'industry solutions', 'use cases' and more
Use the suggested matches to schedule meetings and initiate chats with other Cisco Live Europe attendees