I am excited to kick off this blog series where you'll hear from key Cisco Sales Business Development experts who we collaborate with to bring to market the best programs, promotions and initiatives that enable partners' success. The first topic in our series focuses on the Mid Market customer segments.
If you've watched my session during Partner Summit 2019, then you know Cisco is investing in the mid-market in a big way. We want to help partners stay competitive in this very crowded and dynamic space. The products included are form-fit for the mid-market segment, meaning partners can focus on selling to their customers and spend less time trying to optimize their pricing through different programs and promotions.
Cecilee Steinmetz is an SBDM in the Global Partner Organization. She spearheaded an effort that helped us recognize the need for faster ways of getting these products to partners and their customers at the right price upfront. Based on her finding, "There is a recognition that more discounts are necessary at the start of the deal, plus the back-end rebates to maximize profitability. Partners can realize this impact up-front right at the close of the deal. And since we have hand-picked the products that most resonate with the mid-market customers, we drive this promotion towards the highest value opportunity possible for partners."
The promotion is called "Ignite the Mid-Market." It's a comprehensive promotion, covering all architectures and for the first time, includes Enterprise Networking products. This makes it simpler for partners to obtain a single deal registration and get the right price for their Mid-Market customers at the speed at which purchase decisions occur in this market.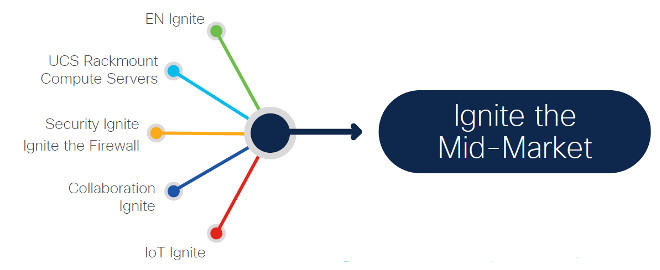 Also, Ignite the Mid-Market created a lot of simplicity and allowed us to consolidate five previous promotions into one. The goals of the new promotion are all being realized; 1) assist with pre-sales activities, 2) protect Cisco Partners' investments through simplified deal registration, and 3) offer the best incentives end-to-end providing better profit predictability. We'd like to hear from you on what your experience has been with Ignite the Mid-Market and how we can continue to improve on deal registration based promotions.
Please take the time to familiarize yourself with the following resources and details that will put you on the path to IGNITE your business!
---
Ignite the Mid-Market Resources:
If you need further assistance, contact us at Ignite the Mid-Market help email.