As I partake in Cisco Live! activities, I wonder how the network team handles the thousands of geeks with their 3-4 geek toys each connecting to Wi-Fi from anywhere around the convention center.  I know a thing or two about how they went about planning, but hey, there is always Murphy's Law that creeps up and nothing (always) works as planned…surprise surprise… think about the size of this conference and the World of Solutions (trade show floor) where so many of the partners want to show off their latest and greatest capability by setting up their own network. BAM: you have interference of all kinds all over the place. It's a good thing the AP's that are deployed have Cisco CleanAir® Technology to automatically classify and mitigates the interference. But wouldn't it be great to be able to visualize the interference and the RF?
Enter visualization and Metageek.
It doesn't take long for someone in the wireless industry to know that Metageek's geeks know a thing or two about giving sizzle to RF and packets. We've certainly been around long enough, so that's why we've been working with Metageek to cook up the Chanalyzer Pro with Cisco CleanAir® , the industry's most advanced spectrum intelligence technology with the industry's most visually captivating and comprehensive RF analysis tool. Perhaps you caught yesterday's press release?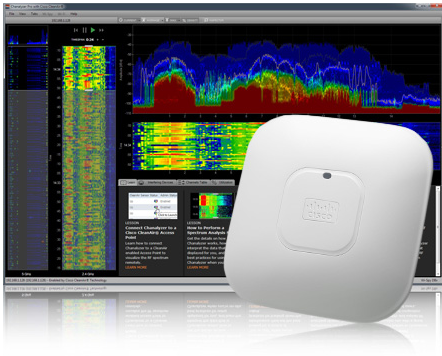 When Chanalyzer Pro with Cisco CleanAir® is connected to Cisco CleanAir® AP, the screen looks like Aurora Borealis, which is very visually appealing, but the best part of the tool is that it's enhanced with geek expertise.  It's nice to have a tool that I can use to further troubleshoot through visualizations of the pesky interferences that cause havoc in the Wi-Fi network. The tool is very intuitive and allows me to go back and forth seamlessly between both 2.4GHz and 5GHz bands, I can pause and see a snapshot much like a DVR so iPhone like, and I can even create a report with such thorough information about those pesky interferences that it could even make an RF engineer stop and listen.
As more and more things become connected to the internet over Wi-Fi, those things will have to compete with ever more crowded spectrum and will likely cause interference, so it will be great to have AP's and tools powered by Cisco CleanAir® Technology to clearly illuminate what's wrong.
In words of Jimmy Ray Purser from Techwise TV, "wow…that's smart…opening up something that's Cisco Technology to smart geek's and providing a very useful tool..that's cool…very very cool!!!"
We are happy to have collaborated with Metageek on this new product, and hope you enjoy using it when troubleshooting your network issues.