Can you remember life without Wi-Fi? Mobility is an integrated part of our daily lives – from how we operate as a mobile user or consumer to how we conduct business. And as Cisco continues to focus on architectures and solutions that transform our customers' businesses, our Wi-Fi business soars: in last week's Q3 earnings, we reported a 27 percent increase in year-over-year revenue and a 200% increase in sales of Service Provider Wi-Fi. We've now seen 6 out of 7 quarters of Wi-Fi growth, and we continue to be the clear industry leader.
We've made exciting new announcements in wireless – the industry's first edition of the 802.11ac module; extending our portfolio for a cloud-managed offering with the acquisition of Meraki; and unveiling several marquees customer deployments.
One of the truly differentiated ways Cisco is delivering business-relevant solutions is extending the Unified Access architecture through the Connected Mobile Experiences solution. This solution embodies Cisco's commitment to deliver relevance to line of businesses by shifting the network to a revenue enabler that creates meaningful Wi-Fi user experiences and increases business efficiency.
The Connected Mobile Experiences solution uses Cisco Wi-Fi infrastructure– access points, controllers, Mobility Services Engine (MSE), and management – to detect, connect, and engage end users and to provide unique insight to venue owners through location analytics.
The MSE is the architectural glue of this solution, providing real-time, centralized parsing of Wi-Fi data to create meaningful intelligence – such as the location of the device and time spent in a particular location – that can be leveraged by Connected Mobile Experiences Engage and Analytics capabilities.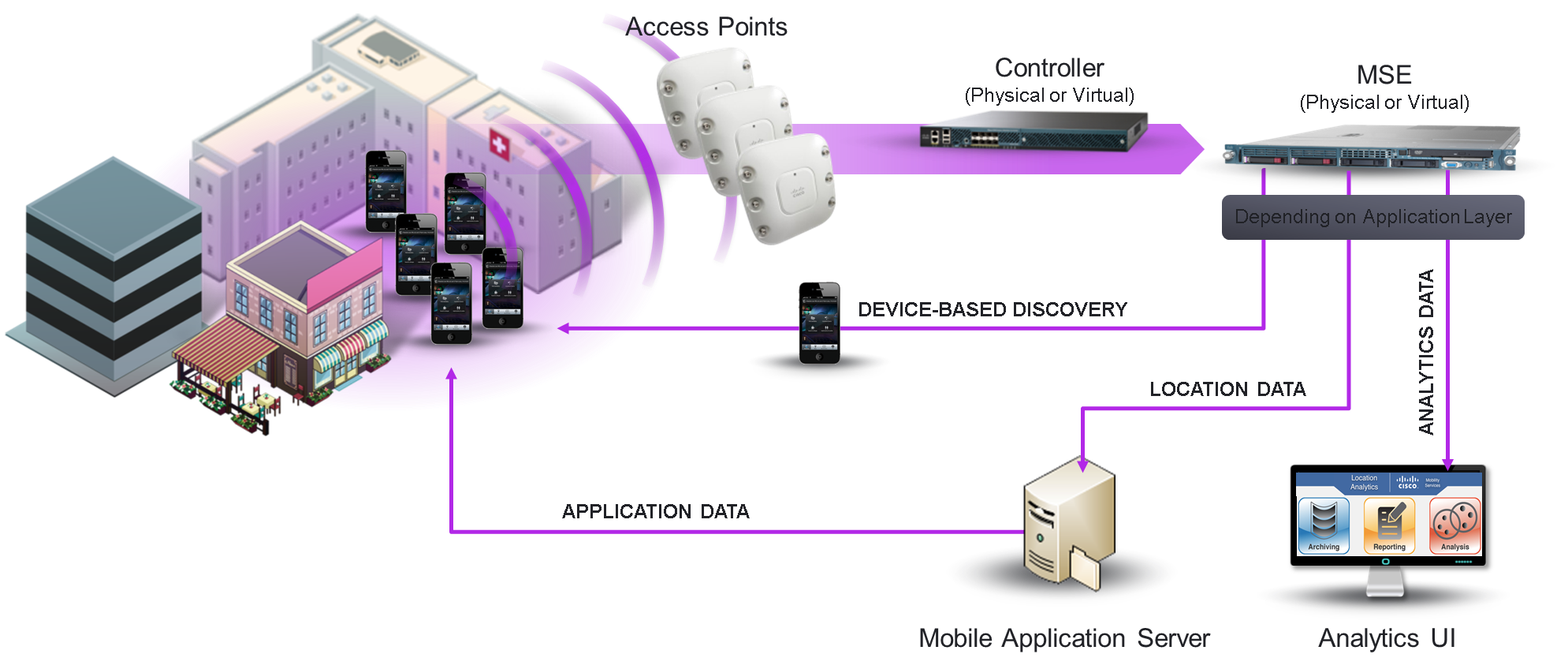 There are now three ways to engage end users: through mobile apps (App Engage), through the mobile device itself (Device Engage, through our Qualcomm relationship), and through mobile browsers (Browser Engage – new!). Cisco also has a broad ecosystem of partners to provide a full solution to customers – from the onboarding process to engage services to ongoing managed services.
Cisco provides a simple API (CMX Tools) and currently works with more than a dozen app partners to integrate location and context information. These customized apps allow organizations to provide in-venue mobile users relevant information, based on their location, such as nearby amenities, indoor navigation, and location-based notifications. This capability has received a lot of attention and buzz in the industry – we saw Aruba recognizing the value of the Connected Mobile Experience App Engage capabilities with their purchase of Meridian, one of the ecosystem partners who have been working with us to develop indoor mapping apps. Our strategy is to work with a broad ecosystem of partners that develop iOS and Android apps to create a rich, personalized mobile experience only the Cisco Wi-Fi network can bring.
The Connected Mobile Experiences solution also continues to provide organizations with valuable location analytics information unmatched in the industry – the number of people, where they are going, and how long they're staying in particular locations. This brings the Wi-Fi network to the forefront of business relevance, as organizations can gain insight into customer patterns and trends for more efficient space planning to create better customer satisfaction, and for marketing effectiveness measurement to track the effectiveness of third-party advertisements.
Our customers are responding positively to our investment in business-relevant Wi-Fi solutions – last quarter's earnings speak for themselves. While other vendors in the industry are struggling to maintain revenue, Cisco is continuing to invest in architectures and solutions that can transform how organizations are using the network.
For more information on the Connected Mobile Experiences solution, visit  www.cisco.com/go/cmx.
Click here to learn more about Cisco mobility solutions www.cisco.com/go/yourway