As we celebrate International Women's Day, it's time to take stock of what we are most passionate about as professional women. For me, as the leader of Cisco's Partner Organization in APJC (Asia, Pacific, Japan and China), I am most passionate about Partners and the unique ways they bring Cisco's technology to life for our customers. I am also proud to work for a company that makes giving back a priority – something I am honored to do as the regional executive sponsor for the Women of Cisco chapter in APJC – an organization that provides so many opportunities for our women employees to come together to support and develop one another.
Today, Women of Cisco has grown to more than 4,000 employees who participate in mentoring, speaker's series, networking events, and community give-backs in nearly 40 countries. And in many of these countries, we're expanding this organization to our partner ecosystem as well! All initiatives are run by volunteers, all going above and beyond their day jobs to give back and make a difference. This is part of the reason our commitment to equality and diversity is so strong.
31 Days of Inspiration
This year, Women of Cisco is celebrating throughout the whole month of March with their Women of Impact (WOI) program. YES, that's 31 days of inspiration, giving back, developing and celebrating women!
Last week, the fabulous Rola Dagher, Cisco President, Canada, shared a blog with her thoughts about inspiration, and I loved a quote she referenced, "If they don't give you a seat at the table, bring a folding chair." To that I'll add, "While you're at it, bring one for a friend!" Because this week, we're emphasizing the Cisco value of giving back. This is something that I personally feel very strongly about. So, imagine my delight when I joined this company a few years ago, to find that Cisco feels the same way.
Proud that Giving Back is a Part of Our Culture
At Cisco, we have so many initiatives that help us to give. Initiatives like our Cisco Networking Academy. This amazing organization helps the industry meet the need for skilled IT talent and ensures a more inclusive future for all. In a time of digital transformation, this is more critical than ever, and our aim is to train two million students annually.
Our Time2Give program is designed to give employees the opportunity to support the local organizations that they are passionate about — giving them five paid days off to volunteer for the causes that matter most to them in their local communities. How cool is that!?! Time2Give has made a huge impact over the last fiscal year, raising US$25.5 million in employee donations and matching funds globally.
Closer to home, our team in Singapore partners with the Willing Hearts Foundation, a non-profit soup kitchen that prepares, cooks and distributes around 5,000 meals daily to over 40 locations island wide, 365 days a year. This is just one example of the many Time2Give program options that are available to employees globally and shows how Cisco makes an impact on people every single day.
In Singapore, throughout the month of March, we're also raising funds for the Breast Cancer Foundation. These funds will go directly into research, advocacy and awareness to eradicate breast cancer as a life-threatening disease. We are also partnering with the Daughters of Tomorrow an organization that provides valuable training to women in low-income families. This empowerment training provides women with valuable skills in the workforce, so that they can create financial independence for themselves and provide for their loved ones.
Leading by Example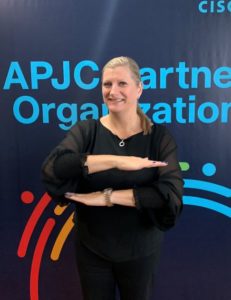 What I've shared here are just a few examples of what Cisco is doing to support the communities in which we work and live. I can confidently say that we are putting actions behind our words and leading by example to build inclusive futures for all. It's one of the reasons we were recently named World's Best Workplace, and it's why I personally am so proud to say, 'I work for Cisco'.
As we celebrate International Women's day and focus on the theme of gender equality, I'm proud to note that we are the most diverse Cisco since 1998 and have one of the most diverse Executive Leadership Teams in the industry. We're focused on building what we call a Conscious Culture – one in which  everyone is aware of the environment we're part of, and feeling accountable, empowered, and expected to contribute to a culture where we feel safe and can thrive. And we are committed to pay parity for all, regularly testing our pay structure and fixing gaps if we find them to ensure we pay our people fairly and equitably. While we know we have more work to do, at Cisco, we really are #EachforEqual!
So what will you do to commemorate International Women's Day? What does #EachforEqual mean to you? I hope no matter where you work, you will take a moment to recognize a woman colleague and pay it forward!