I have a question for you.
Have you ever felt like you've truly made it?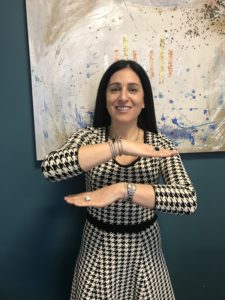 I know in my case, the answer is no. I suspect that's true for a lot of other women, too. Maybe it's because they're fighting impostor syndrome in spite of their success, or maybe it's because they haven't quite reached the heights they have in mind yet. But either way, I think "no" is actually the right answer. Life is a journey after all, and we should always have new goals in front of us no matter where we stand today. Simply put: Our stories aren't finished yet.
Now I have another question: who's inspired you to keep going on your journey?
On International Women's Day, we have an opportunity to celebrate the women who've given us inspiration. The day is a gift – it's the perfect time to remember the progress that's been made on gender equality, to shed some light on everything that still needs to be done and to recognize those who've helped to inch the bar to benefit everyone.
For me personally, three powerful women come immediately to mind – women who've blazed a trail and inspired me by their incredible example.
First is Michelle Obama. To me, she radiates authenticity. She is genuine, classy and down to earth. I have huge respect for how humble she is, the way she treats people equally and the enormous impact she delivers by having a strong purpose focused on empowering communities. She wrote something that really resonated with me:
"It's not about being perfect. […] There's power in allowing yourself to be known and heard, in owning your own unique story, in using your authentic voice."
In my own life experience, I've seen how having the confidence to be me has empowered others to do the same and be themselves. And when you're clear on who you are, you have control over your power to make an important, positive difference – and that's exactly what Michelle is working to do.
Another woman I admire and who's deeply inspired me is Mother Teresa. Her life was the epitome of kindness, and she made a positive impact on thousands of people with her humanitarian work. I love to give back – and I've looked up to her grace, her example and her legacy to push myself further.
The last person I think of as an inspiration is someone very personal to me: my daughter, Stephanie. She's made a huge impression on me and on everyone around her with her resilience. Stephanie has worked past major obstacles as a child and young woman – her tenacity is incredible, and I'm constantly in awe of how her determination to just get things done leaves others in the dust.
Stephanie also once shared a Shirley Chisholm quote that's stuck with me ever since:
"If they don't give you a seat at the table, bring a folding chair."
The attitude in that sentence packs a powerful punch, and it also carries a lesson: in the end, you own your story. It's your responsibility to hold the pen, to be the author of your narrative and to make it the best story you can.
But good stories also involve more than one person. On International Women's Day, I'll be thinking of those three people whose actions have inspired me – but who inspires you? This month let's celebrate them together – reach out and tell them how grateful you are and tell others about them. I'm certain it will inspire someone else.
Now, think about taking it a step further. Use the power you have to empower and inspire another person in your life. And maybe next year on International Women's Day, we'll be celebrating even more progress.
You'll hear more from our amazing women leaders throughout the month of March. Follow the action by connecting to Women of Cisco on Facebook, Twitter, and LinkedIn.
Learn more about Cisco's corporate social responsibility efforts.