The following is an excerpt from the 2019 CSR report.
The circular economy is a natural extension of Cisco's own business transformation. As a company, we are moving from product upgrade cycles to recurring cloud computing and a software-subscription model. With this same mindset, we aim to harness technology to limit the unintended consequences of one-way consumption.
Cisco is accelerating the adoption of circularity with the goal of decoupling business growth from the consumption of finite resources, designing waste out of the system, and transitioning to renewable energy.
With cross-functional engagement among teams across Cisco and members of our supplier community, we have many projects underway to help us achieve these goals. These include:
No Paint Project. The "No Paint Project" eliminated oil-based wet paints on plastic bezels used in our Catalyst 9200 and 9300L products. This design change enabled significant cost savings, facilitated recyclability, reduced GHG emissions, and eliminated hazardous volatile organic compounds.
Recycled plastic. In FY19, Cisco avoided the use of more than 456 metric tons of virgin plastic by producing 2.72 million 7800 IP phones with 35 percent recycled content plastic.
Reusable pallet wraps. We are also combating plastic waste by rethinking the way we package shipping pallets. We replaced disposable wraps with reusable wraps on pallets. This reduced costs, avoided carbon emissions, and prevented 79,000 pounds of plastic stretch-wrap form reaching landfills in FY19.
In FY18, Cisco launched an enterprise-wide circular economy program. The program extends from how we design, build, and deliver products, to how we value the assets we have and turn them into new products. We also apply Cisco technology to support our customers in their own circular transformations. Our circular economy initiatives are focused in five major areas: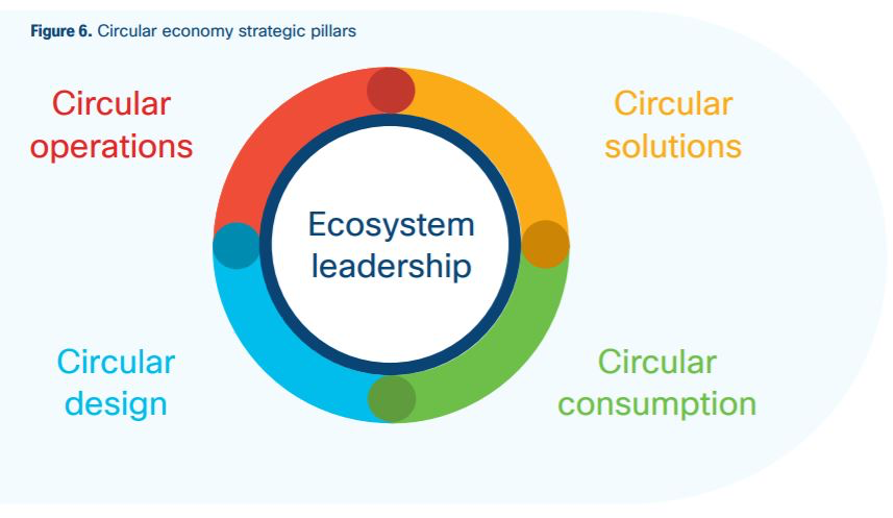 Circular operations. Reduce or use renewable and recovered inputs throughout our operations.
Circular design. Design for product and packaging circularity, repair, and reuse; use recycled and closed-loop material inputs; and direct used materials to become new inputs for production.
Circular consumption. Cycle refurbished and remanufactured product for multiple uses, leverage partners, and deploy as-a-service models. This area includes Cisco's trade-in, takeback, and recycling programs.
Circular solutions. Shape and pioneer technology-driven solutions and services to enable circular economy value creation for customers.
Ecosystem leadership. Advance the circular economy through industry innovation, collaboration, and public policy. Cisco's circular economy program operates under a dedicated program management office under the executive sponsorship of John Kern. The team runs multiple levels of governance bodies and cross-functional working groups to establish and achieve strategic priorities across the company. These include:
Circular Economy Executive Change Network. Champions Cisco's holistic circular economy vision; drives engagement and business alignment.
Operational Leadership Committee. Responsible for making decisions, taking accountability, influencing, and allocating resources for circular economy end-to-end at Cisco.
Circular Consumption Steering Committee. Responsible for driving strategic initiatives to advance product returns and reuse. The committee operates cross-functionally, and is accountable for metrics and financials, allocating resources, and consulting key advisory functions on both systems and process changes.
Working Groups. Responsible for initiating, implementing, and managing specific circular economy projects; organized by pillar.
Circular Economy Regional Leader Network. Responsible for championing our vision within their regions, facilitating local engagement, and providing business support. Further details on our circular economy program, including our goals and initiatives, can be found on our website.
We also have a number of goals related to the circular economy:
• 80 percent of Cisco component, manufacturing, and logistics suppliers by spend will have a public, absolute GHG emissions reduction target by FY25.
• 70 percent of Cisco component and manufacturing suppliers by spend will achieve a zero waste diversion rate at one or more sites by FY25.
• Reduce Cisco supply chain-related Scope 3 GHG emissions by 30 percent absolute by FY30 (FY19 base year).
• Decrease use of virgin plastics by 20 percent by FY25 (FY18 base year).
• Reduce all foam used in Cisco product packaging by 75 percent measured by weight, by FY25 (FY19 base year).
• Increase product packaging efficiency by 50 percent by FY25, as measured by package volume per weight of product (FY19 base year).
• Design all new products using circular design principles by FY25. Learn more about our goals in Table 3.
Download the full 2019 CSR report: