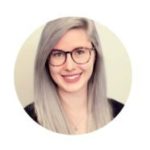 This guest post was written by Samantha Symonds, Cisco Cybersecurity expert in RTP, and a recent speaker in our Women Rock-IT series. To hear more from Samantha, click here:
---
I started out thinking I would be a lawyer. Unfortunately, my all-girls high school offered no technical courses, so I wasn't exposed to the world of technology until I was majoring in accounting and pre-law at Pace University.
My first semester, I was required to take a basic tech course and signed up for Intro to HTML. In just one class, my world changed: there were so many facets of technology that I could get into. In my law classes, I liked to poke holes in arguments and assumptions that seemed impenetrable, for the betterment of society. This is a perfect match for cybersecurity. I wanted to break things, so I could make them stronger. The more I learned, the more excited I became.
The following year, I transferred to the Rochester Institute of Technology, where I majored  in Information Security & Forensics. On the first day of class, I looked around the room and saw that  I was the only woman there. I soon realized there was a significant gender gap in technical education.
Until my first semester at RIT, I thought Java was coffee, and Python was a snake. I had no idea what I was doing – and I loved it! Every class was a new challenge. I was always first in and last out. I was often left without a partner in lab-based classes, because no one ever asked me to be their partner. There would be a radius of  empty chairs radius surrounding my seat. However, once my classmates got to know me through a shared group assignment, I'd find myself with seat buddies and partners.
I often experienced the need to overcompensate in group projects in order to feel as qualified as my peers. My inquisitive nature was sometimes perceived negatively – instead of being seen as the student who approached problems with curiosity and questioning, I was considered the person who asked "easy questions." Later in my career I learned IT professionals are reluctant to ask questions:  we nod and hope we'll figure it out for fear our peers will judge us. With time, I was able to reframe my curiosity as an asset instead of a weakness. The thirst to continuously prove myself was my driving force. My mantra in my head became: "You love this stuff. Everyone is here to learn. You deserve to be here."
When I was looking for internships my junior year, a classmate who had been a Cisco intern encouraged me to look into Cisco's program. "Isn't that the company that makes routers and switches? I like cybersecurity." I quickly learned that Cisco does cybersecurity and so much more. My classmate assured me: "They can teach you all the technical stuff. Cisco hires good people, team players, people who can learn fast, people who are enjoyable to work with. I like working with you in class, and I think you would be a great fit."  I interviewed and got hired for an internship. I worked in a huge lab containing every device Cisco had ever created. I soaked up all the knowledge I could during that internship and steadily increased what I could do in a single shift to consistently outperform myself. I helped train new interns. I treated every day like a job interview. A year later, when I graduated, I called my internship manager, and she hired me full-time at Cisco.
Once I started in Cisco TAC, I had a set of managers who set me up for success. I have never been pushed as hard intellectually. One of the challenges I faced was the occasional customer who lacked faith in my diagnosis. When I had a  male teammate repeat my recommendation, suddenly the customer accepted it. While this was frustrating, I don't like complaining; I like fixing. So, I did some digging and discovered my delivery  needed work. When I replaced politeness with confidence, I became more direct and authoritative. This was met with respect, and even higher-rated customer reviews. I was the subject matter expert, that's why they were calling me. I learned how to dissect a problem (technical or political), troubleshoot issues, manage expectations, and gain the confidence to present myself as the technical professional I was.
Next, I moved onto a role in cybersecurity, in Cisco's Security and Trust Organization on the Market Access team. Here, I am the technical lead responsible for dissecting and understanding the security requirements demanded by our international markets (government, critical infrastructure, etc.). I create and define strategies to obtain compliance regulations in a resource-efficient manner.
While I'm not sure where the next step of my career will take me, I know the important thing is to always keep your values in mind – these will pull you towards your next opportunity. The things I value in a job are being able to positively impact and continuously improve the business, leaving work every day knowing I provided value to the company and my team, and constantly learning and growing.
I also highly value being uncomfortable. If I am unsure, if I need to be constantly learning in order to do a good job, if I am always close to feeling like a failure, I know I am in the right place.
My cybersecurity career since college has provided many lessons:
Treat every internship like it's a very long interview, as your performance during this time may offer opportunities for a full time offer or recommendation letter.
Once you have the job, treat every piece of work you do as if it has your name signed on it. These projects may outlast your time in that job and will serve as a reflection of your character.
When you are interviewing for a job, consider the quality of that team's management – a good manager can be a catalyst to your career, and a bad manager can severely hinder it.
Never stop asking questions – it is the best way to learn and grow.
Finally, get comfortable with failing. Failure is a part of life, and how we move toward our higher goals.