Sometimes, things just don't happen as planned. On the night before I was due to fly to the United States for my favorite event of the year, Cisco IMPACT (our annual Sales kick off), I dropped my laptop on my foot. It hurt – A LOT. 
But overcome with excitement, and assuming it was just bruised, I limped my way to the airport.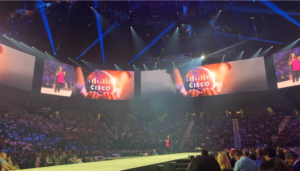 Twelve hours later, I arrived in San Francisco ready for an exciting week ahead at Cisco HQ in San Jose before jetting off to Vegas. But first, I planned to spend a few days in Palm Springs with colleagues ahead of the conference. As I waited for that flight, which was delayed twice, the stress began to build – as did the pain in my foot. Quickly, it became unbearable. I knew it was time to make a really difficult decision, and so I canceled my holiday, collected my suitcase, and headed back to the Cisco office. 
Wait, what? The Cisco offices? Why there?
For me, that's easy – that is where my manager Maria and my team were. I knew I would feel instantly better there with them, and I knew that I could find the help I needed through the Cisco emergency line. After visiting the emergency room, I was informed I had broken my foot, told to keep weight off of it, and was given crutches and a foot cast. Not exactly ideal for Cisco IMPACT – where I probably do the most steps in any given week of the year. 
As someone who is active and loves making the most of every opportunity to see old friends and make new friends, I knew this was going to be a very different IMPACT for me. 
Cisco, of course, had my back the entire time. Judy connected me to the right people to ensure I was comfortable (hello, electric scooter!) Jill and Alli set up a Webex Teams room dedicated to checking in on me, while Maria, Steffi, and Mary ensured I didn't walk more than I really needed to. Shanie, Becky, Holly and Chloe bought me earrings from my favourite store to let me know they were thinking of me when I missed out on our holiday, and Hannah was there to help me with my luggage.  
I was surrounded by amazing and caring people. But, still, losing my independence frustrated me. Especially on a week where I needed to walk the most. It didn't seem fair.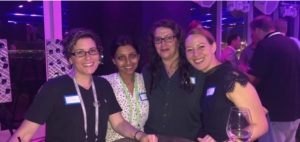 My entire outlook on the situation changed with a single message from my good friend Yosi Kossowsky; "Sometimes, we can't see a reason as to why things happen to or around us. And sometimes, these things are out of our control. But know that there is always a reason – a lesson to be learnt, a new beginning, a life change – embrace these things and know that we cannot always control all things. By knowing this, I assure you, you will feel more strength." 
After hours of reflection, I realised something. My reason is learning. 
I learnt to accept the situation, which was out of my control. 
I learnt what it feels like to experience physical pain and be determined to push past it. 
I learnt what it feels like to have limited mobility. 
I learnt what it feels like to rely on others for simple everyday tasks such as opening a door or carrying a bottle of water whilst using crutches. 
I learnt what it feels like to not be able to walk into a stadium and walk down five steps to your seat. 
I learnt what it feels like to be at a different height to everyone else, and unintentionally ignored. 
I learnt what it feels like for people to look at you differently and feel isolated. 
I learnt what it feels like for strangers to avoid eye contact or conversation with you in case they offend or upset you. 
And…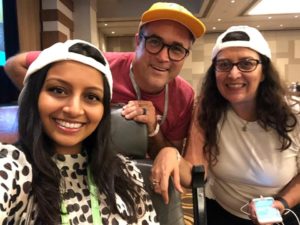 I learnt how to be more creative with storytelling because let's face it, dropping your laptop on your foot isn't the most exciting story to tell people in Las Vegas. Some of my favourites – "I broke this foot training for my black belt" (credit to Jill Shaul!) And, "I broke this foot bungee jumping from the top of the Stratosphere hotel." 
I learnt, too, that having a sense of humor helps in times like these. 
I learnt what it feels like to be surrounded by the kindest, biggest-hearted people. 
I learnt what it feels like to push past challenges thrown at you and deliver great results anyway. 
I learnt how to maneuver an electric scooter (better than I drive my car). 
I learnt that this is temporary. My broken bone will heal. I am grateful. 
I learnt first-hand from this experience, to be more considerate and inclusive of diverse abilities. 
So yes, I broke a bone in my foot at an inconvenient time for me. And, I am grateful. In all aspects of life, whether at work or at home, in an elevator with one colleague or in a stadium with thousands of people, I promise to offer a smile, create a more inclusive environment, and pay it forward one small act of kindness at a time. 
Are you ready to join our incredible team? We're hiring. Apply now.