Recently on a Webex call, a young woman who had just joined Cisco was eager to hear about the amazing Tech for Good efforts that Cisco leads – and the lucky role that I play in all of it.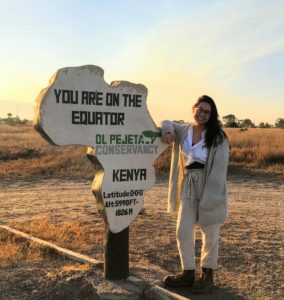 She asked a big question, "How did you get to where you are today?" and in my head, I drifted off into how my career story began….
Once upon a time, there was young girl and she believed she could be anything in the world.
She wanted to be a dolphin trainer because she loved visiting her local aquarium, but soon realized that she was prone to seasickness and didn't like getting water up her nose.
Then, she went to volunteer at the local animal shelter, but she was told that she wasn't old enough and she didn't have something called 'insurance.'
Later, she wanted to become a zookeeper because she loved the book Goodnight, Gorilla and wanted to be around animals all the time. But every time she pointed to the zookeeper, she was told that she should just focus on passing 3rd grade so she could go to college and get a grown-up job.
As the girl grew up, the dreams she once had slowly turned into the echoes of childhood memories. There were rules, a roadmap with check points, and measurements of success – with very little tolerance for childish ambitions. Somewhere in there, those dreams faded.
Fast forward to 2013, that young girl was me – scoffing at once being so naïve – proudly starting my very first job. I followed all those rules of how to make it to adulthood. And I felt like a wise and mature post grad accomplishing milestones and achieving societal expectations. College? Check. Job? Check. Heck, I even have a 401k AND benefits, like insurance! My mother was so darn proud.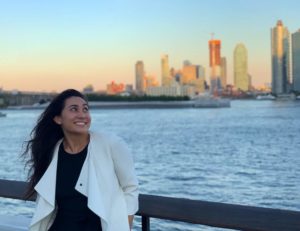 Three years later, it was everything a first job should be. I went through the company's leadership program and made amazing friends. I had a great manager and I even had a work spouse! And my work itself…well, it was…fine.
But that was ok, right? I assumed being 'fine' was just an invisible totem of adulthood, one of the many stones that eventually fill our pockets as we age.
But that little stone of 'fine' in my pocket started to grow and weigh me down. It soon grew into larger questions: Why did it all matter?  What was the impact of what my company was doing? What was my impact?
I was at a crossroads. On the one hand, I had followed all the rules and earned a good job that paid me well. On the other, I wanted to feel like I was doing something important for the world, something valuable. Something that mattered to me.
This internal battle continued for months, until one morning I pulled into the parking lot and physically couldn't leave my car. I was ugly crying after hearing an NPR story about the last Northern White Rhinos and their fight against certain extinction. Suddenly my battle seemed very one-sided.
That was the day that I updated my resume and started to explore a new, but vaguely familiar, calling – and that's when I found Cisco.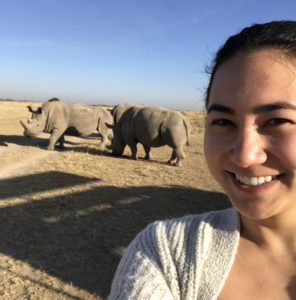 Now, every day I wake up – I have the privilege of combining my experience and faith in technology with my passion for wildlife. As the Partnership and Engagement lead for Cisco's Sustainable Impact Program, I see first-hand the incredible value that Cisco's technology brings to our planet. Our networking equipment is bringing connectivity to the most remote parts of the world, enabling rangers to fight poaching and prevent incursions into protected areas. We are protecting endangered species through our innovation and IoT solutions to give our planet a fighting chance for generations to come.
But most importantly, we are showing the world what is possible when we work to solve global problems with technology and what happens when we never settle for 'fine'.
It's been years since I last read Goodnight Gorilla, and I wouldn't want to swap jobs with a dolphin trainer tomorrow, but this past year I have come eye to eye with some of the most majestic animals on the planet and I couldn't feel more fortunate.
March marks my three-year anniversary at Cisco (we call it our 'Ciscoversary') and, while there are so many more things to do and achieve before a 'happily ever after,' I have to remind myself often that where I am today is even more incredible than what that young girl could have ever dreamed, once upon a time.
Ready to live your dream job? We're hiring. Apply now.