It's February again that means Mobile World Congress 2020 in Barcelona is just a few weeks away.  I know everyone at Cisco is looking forward to seeing all of you at what is arguably the biggest and most impactful technology event of the year (well, maybe tied with Cisco Live!).  We look forward to you visiting us at our awarding winning booth in Hall3 3E30 – same as the past few years. We have dozens of demonstrations in the works to show how you can leverage the 5G era to accelerate profitability and open new opportunities.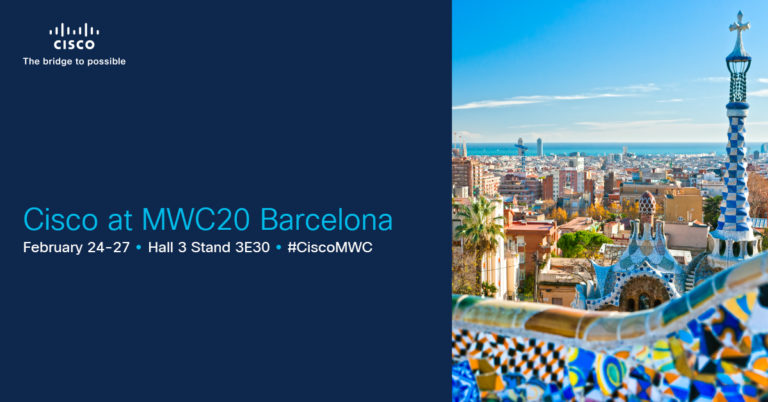 Cisco will have our executive leadership team, Product Teams, and many subject matter experts on hand to share information and discuss your opportunities, challenges and how Cisco can be your most valuable partner to pursue excellence and success.
So, please read on as I share with you some of what we are preparing just for you – our Mobile World Congress guests.
Our theme for MWC20 is "Between unlocking the potential of 5G and the Internet for the Future". This builds on our "Bridge to Possible" theme which we introduced last year.  Through this we aim to share how together we can work for the betterment of the people that you serve.  This begins with establishing a strong and trusted foundation that delivers success.  We want to show you how by working together you can grow revenue, save money, and mitigate risk – for you and your customers.
Grow Revenue – Save Money – Mitigate Risk
A remarkable 5G experience for consumers and enterprise customers begins with Cisco software-defined architecture for the 5G era.  Cisco builds trustworthy 5G networks with the industry's most advanced automated infrastructure for profitability and competitive advantage. Cisco's intent-based, software-defined architecture is the foundation for the Internet for the Future. New 5G experiences for consumers, businesses, and IoT can be deployed by existing or greenfield network providers as well as enterprises. Total cost of ownership can be reduced on average by 35% and the time to instantiate functions and introduce new services greatly accelerated.
The industry has shown that it appreciates what we have to offer as we have won dozens of 5G deals and collected 3 awards for our innovations in 2019 and have been shortlisted for the GSMA Global Mobile "5G Leadership" award at this year's MWC event.
Demonstrations
You are invited to tour our "Mobile Transformations for Industry" demonstrations that are open to all.  Once inside our booth, you might wish to start your demo tour with our Big Picture demo that offers quick, high-level views of eight areas including architectures for service providers, enterprises, supporting mega-trends like Cloud, IoT, and the Internet for the Future, and key network attributes – Automation/Orchestration, and Secured and Trusted networks.  From here we can guide you to deeper dives to specific solutions and products to some of our newest innovations – including Silicon One and the Cisco 8000.  We also have innovations in seamless convergence and momentum in Open vRAN.
Seamless Convergence
Perhaps this is the Zen of mobile wireless – a seamless open converged radio network environment, providing the best user experience anywhere and everywhere.
5G and Wi-fi 6 together – Cisco has long promoted the right tool for the right job, and that includes wireless access.  Be it 4G/LTE, 5G (NSA, SA, mmWave), CBRS, Wi-Fi, Wi-Fi 6 or any of the assorted "machine-oriented" wireless access types.  The key is a trusted seamless roaming experience.  Cisco is the leader in 'AnyAccess" and open seamless convergence.  You can enjoy the secured Open Roaming throughout the Fira Barcelona Gran Via as Cisco is the official wireless provider.  Additionally, we have a fantastic demonstration of Service Provider and Enterprise converged seamless network solutions.  See how Service Providers can extend their enterprise customer's domains across their secured WAN and put the tools Enterprise IT wants into their hands.
Open vRAN Gains Momentum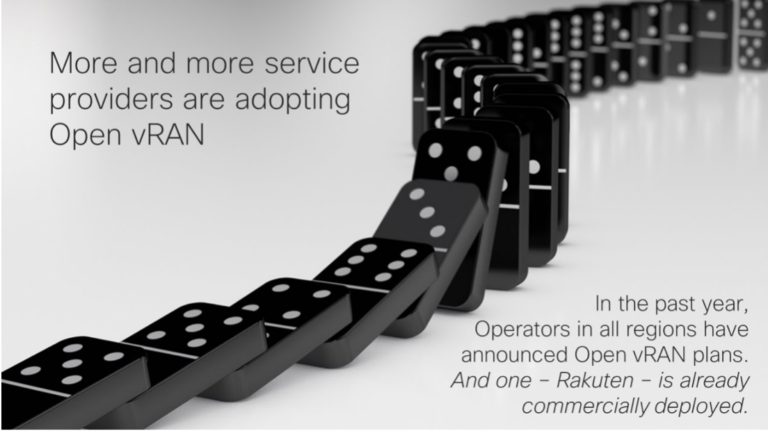 2019 was a great momentum building year for Open vRAN with Etisalat, Vodafone, O2, Viettel and others announcing their intent to deploy Open vRAN and of course the industry pioneer, Rakuten going commercial with a 100% Open vRAN network.  The industry is seeing proof that not only does an open environment work, but it simplifies, reduces costs and eliminate vendor lock-in.  Cisco is proud to be a leader in this movement of opening the last proprietary segment of the mobile network.  Cisco is demonstrating our multi-vendor 4G/5G Open vRAN solution at MWC and welcome you to stop by, see the live demo for yourself and speak with our experts.
Events and Speakers
Cisco will be hosting events in our Booth for VIPs, Analysts, and more – these are sure to be entertaining and informative.
We will also have speakers throughout the week at GSMA sessions including Global Director, Bob Everson for "Security in the Tech Industry X Era" and VP for Global SP Marketing, Marci Hanlon for "Women 4 Tech" Diversity panel session.
Travel safe and we are looking forward to seeing you there!