I recently had the opportunity to attend #NRF2020 and experience Cisco's Grape to Glass exhibit, full of engaging solutions that are propelling the retail industry forward.
The concept showcased how retailers can integrate their various platforms, processes and IT functions to scale efficiencies across their organization. This is truly what will drive down costs for our customers, and what will turn their one-time shoppers into engaged, repeat customers for life.
What I saw at NRF is just how we at Cisco, along with our ecosystem of partners, are enabling systems, tools and data integration for retailers. We are driving solutions not only in a physical retail environment, but also across all areas of the supply chain. From production sites, to distribution centers, through shipping and all the way to a store—or more and more often directly to a customer's home. As data is being generated across the value chain and across various channels including online and in store, retailers rely on applications and analytics engines to interpret the data and deliver engaging experiences and key business outcomes—and that's where the network comes in.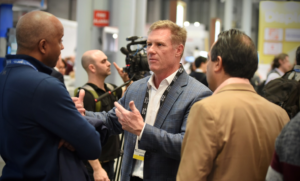 At Cisco, we know the network that supports these elements is so critical. Visibility, central management, programmability, automation and security are just a few results that come from having an intelligent network that brings these platforms together.
A powerful network also enables retailers to operate in an agile way, with IT that can support changes quickly based on what's happening in their business. This flexibility is hugely important for our retail customers right now. Whether the IT adjustment means offering more engagement opportunities on a mobile platform, integrating a new third-party vendor for distribution needs, or shifting to a multi-cloud environment, the network needs to meet these requirements across the enterprise. And with a network infrastructure that has security baked in, retailers can continue to innovate with confidence as new capabilities such as 5G and wireless help to advance what's possible in the industry.
I'm really excited about what Cisco is bringing to the table with our ecosystem of partners in Retail. And directly showing how our use cases apply to their business needs will allow our customers to see progress in their own environments that much faster. I look forward to seeing how we accelerate this compelling, exciting innovation for our customers. Here's a video of my top takeaways from the booth:
Be sure to read our newest white paper on how retailers can integrate their value chain for the modern consumer.