All the players in the U.S. retail ecosystem today—mall developers, retailers, vending operators, and consumer product manufacturers—are facing key demographic, economic, and technological changes. The "new normal" world of retailing is challenging retail players to reverse vacancy rates and sales declines, create enhanced customer experiences, reduce labor and construction costs, deepen brand differentiation, optimize small urban formats, and justify investment in innovation.
In the midst of these challenges, three emerging, technology-enabled, self-service retail trends offer the glimmer of a new opportunity.
Innovative vending machines, micro-markets, and virtual stores are developing on separate tracks today, but combined, they could create a completely new retail business model—something Cisco IBSG calls "Digital Malls."
Unattended retailing has gone far beyond the days of "put in a dollar, get a soda." Innovative vending machines are smart, networked devices that enable more convenient, interactive consumer experiences with video, mobile, and social capabilities. Micro-markets are unattended food stores in large workplaces where consumers pay for their own purchases at video-enabled kiosks. Virtual stores are physical e-commerce installations where consumers click on product pictures using a touchscreen or their cell phones and place orders for later home delivery.
However, as exciting as these three trends are, independently they are not enough to tackle the challenges facing the retail ecosystem.
Consumers still need retail destinations with an array of merchandise, food, and entertainment experiences to inspire repeat visits. Individual innovative vending machines, micro-markets, and virtual stores will not accomplish this or create the scale necessary to lower labor, building, or networking costs.

However, Cisco IBSG believes that these three trends could be combined to create "Digital Malls," highly engaging self-service shopping environments placed in densely populated venues—such as airports, transit stations, shopping malls, amusement parks, stadiums, universities, hotels, fairs and festivals, frequent-flyer clubs, and large workplaces and condo complexes—where consumers have the time, need, and enthusiasm to shop.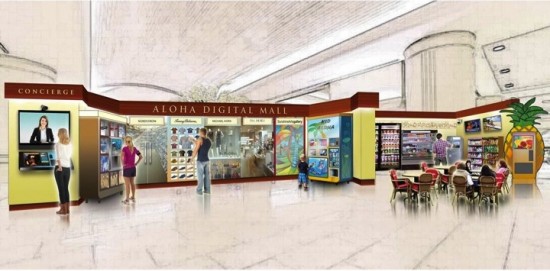 Digital Malls would offer retailers and manufacturers access to shoppers in many additional distribution channels, with no or low labor costs. Digital Malls could be indoor or outdoor, stationary or mobile—an always-available shopping area or an exciting temporary installation at a major event—in a fun, highly graphic, branded environment.
Within Digital Malls, the next generation of virtual stores could offer an array of retailers as well as entertainment using gesture technology, 3D, or augmented reality to create an immersive shopping experience. And the next generation of micro-markets could offer immediate-need general merchandise and convenient services such as dry cleaning machines and remote banking.
Cisco IBSG estimates that Digital Malls could be a US$7 billion revenue opportunity across thousands of high-traffic venues, with payback of investment in two years or less. To find out more, read our Point of View and listen to our slide cast.