"The convergence of 5G, Edge computing and AI is sparking a whole new level of innovation", says Evaristus Mainsah, general manager, IBM Cloud Pak Ecosystem, "and this in turn will enable and fuel a broad ecosystem of providers to co-create solutions for a growing set of edge opportunities."
To enable customers to take advantage of these opportunities at the edge, IBM has brought to market IBM Edge Application Manager. Built from a combination of IBM and Cisco components, solutions deploying IBM Edge Application Manager represent the latest output from the Cisco and IBM global alliance, which began more than two decades ago. This multidimensional alliance covers a variety of technologies, such as networking, data center, hybrid cloud, Internet of Things (IoT), security, collaboration, and professional services to bring our joint edge capabilities together for the benefit of our mutual customers.
IBM Edge Application Manager is an autonomous management solution designed to enable AI, analytics, and IoT workloads to be deployed and remotely managed, delivering real-time analysis and insight at scale to more than 10,000 edge devices simultaneously. IBM Edge Application Manager joins a number of other IBM products—such as IBM Telco Network Cloud Manager and IBM Cloud Paks—"which together help customers gain intelligence at the edge that is secure and flexible," according to Mr. Mainsah. 
Working with IBM, Cisco is enabling IBM Edge Application Manager to deploy apps and analytics models that run on a broad range of Cisco products, such as servers, our industrial portfolio of gateways, routers, switches, SD-WAN, and wireless connectivity offerings for edge computing.  As an example, IBM Edge Application Manager leverages Cisco HyperFlex Edge and Cisco IC3000 Industrial Compute Gateway (IC3K) servers. The HyperFlex Edge and IC3K platforms are specifically designed to support a number of edge use cases, such as optimizing traffic management, increasing manufacturing productivity, and increasing the safety of oil and gas pipelines
Cisco HyperFlex Edge
HyperFlex Edge helps meet the unique challenges of deploying simplified, hyperconverged environments for multisite, distributed computing at global scale. It brings the robust feature set and simplicity of HyperFlex systems to edge environments in a flexible, scalable, low-cost, and centrally managed solution. Its key features are optimized to reduce cost and space consumption.
Cisco IC3000 Industrial Compute Gateway (IC3K)
The Cisco IC3000 Industrial Compute Gateway transforms businesses by capturing data from legacy assets and deriving business intelligence at the edge of the IoT network. The gateway extends data intelligence to seamlessly bridge the intent-based network and IoT data fabric in a complete end-to-end solution for industry applications such as smart roadways and factories. The gateway delivers the computing power required by applications that leverage data analytics and real-time critical decision making at the edge of the IoT network. It enables smart roadway applications such as traffic pattern detection, hazardous weather warnings, and road condition detection.
Cisco HyperFlex Edge and the IC3000 Gateway are part of Cisco's focus on delivering innovative traditional IT and industrial IoT compute and networking products as well as the scale, security, and flexibility needed in the most extreme environments.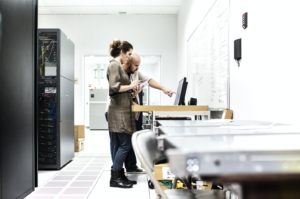 Cisco "Edge in a Box"
In addition, Cisco has leveraged the capabilities in IBM Edge Application Manager to build an "Edge in a Box proposal," where clients can deploy remote location edge applications that run entirely disconnected from public or private clouds but are also synchronized and managed remotely in controlled connectivity windows. For instance, there are a number of client edge locations that need to be able to operate in disconnected mode with the ability to synch up with full support for automated application updates and data exchanges. As an example, delivering constant connectivity to oil and gas platforms can be expensive, so it's more cost effective to run batch jobs to synchronize data.
Likewise, Cisco's extensive portfolio of IT infrastructure, software defined networking (SDN), and security solutions are ideal for enabling use cases with connected sensors. With a reliable infrastructure as a foundation, mission-critical business operations can continue to operate and asynchronously synch up with dependent and supporting business and IT functions and processes.  Companies that depend on this model can build and deploy at massive scale across widespread geographic locations with full support for DevOps and AI learning to continually operate and improve across locations and over time.
Going forward
Cisco and IBM continue to leverage our core strengths to bring innovation to the market and help our mutual customers achieve superior business outcomes in the context of the fastest and largest technology transition in history.
IBM Edge Application Manager offers yet another proof of our commitment to work together for the mutual gain of our customers.  As Mr. Mainsah shares: "We are excited about the value that our collaboration with Cisco brings, for instance to our joint clients needing Cisco Hyperflex servers and gateways coupled with Cisco Software Defined Networking Solutions." And leveraging Cisco's extensive IT and operational technology (OT) portfolio, IBM plans to further incorporate Cisco Servers, IoT Gateways, SD-WAN, and IT Infrastructure into its edge computing strategy.
For more information, read the IBM blog and visit Cisco.com.