The new year is off to a great start with Citrix, one of Cisco's global strategic partners.  We began at Citrix Summit in Orlando, then went to Cisco Live in Barcelona.  The Cisco-Citrix strategic partnership team was highly engaged as an event sponsor, showcasing our jointly developed solutions.  The work of our partnership has never been more important.  Companies everywhere are looking to optimize their IT infrastructure to enable employees in the mobile workplace.  We also know that the employee experience is a priority for companies seeking competitive advantage.  Cisco and Citrix are working together to bring jointly engineered solutions that enable these top customer priorities.  Said simply… it's application delivery, to any device, in a secure manner.  What's even more apparent is the growth of these solutions that now includes new workers in the digital economy outside of the traditional VDI users that we have a 10+ year history.  Here are some highlights:
Cisco Duo and Citrix: Zero Trust for the Workforce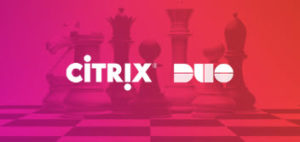 Cisco's Duo Security and Citrix have come together to help our customers secure their Citrix Gateway and Citrix Workspaces.  Customers can now use Duo for Multi-factor Authentication (MFA) to secure the login process.  Did you know that 62% of data breaches use stolen credentials?  That's enough to lose sleep at night!  We have a solution that can considerably reduce the chance of a breach. Duo offers eight different MFA methods including mobile apps, push notifications, WebAuthn and more. You choose what fits your security strategy.  Learn more.
Adding Citrix ADC to ACI networks is easier than ever
Citrix ADC manager is an application that integrates with Cisco Application Policy Infrastructure Controller (APIC) to enable simplified configuration of Citrix ADC devices to bring the application level services required in Cisco's Application Centric Infrastructure (ACI) environment.  The Citrix ADC Manager is available in the Cisco DC App Center.
Cisco won Citrix Strategic Alliance for Marketing Innovation Award  
This award recognizes our global partnership marketing teams for their unique and innovative approach for joint go-to-market.  The partnership features a digital hub to showcase our joint engineering and business solutions to customers and partners.  All in one location.  Explore our solutions for data center, enterprise networking, and security.
Experience the value of working with Cisco and Citrix first-hand.  Later this year Cisco will be an event sponsor at Citrix Synergy in May, then Citrix will be an event sponsor at Cisco Live US in June.  All of these events are great opportunities to see our joint solutions in action and talk with our technical experts.  If you can't attend in person, then visit us on our digital hub.  You can also follow me on twitter using @pteel.  We would love to hear from you as we all find the best and most optimal way to work.