We live in a digital world. Digital technologies are advancing at a rapid pace, connecting people around the world and creating new and exciting opportunities. More than any time in human history, people have greater access to knowledge, services and resources as a result of technological advancements. The impact of automation, artificial intelligence, and the Internet of Things (IoT) is felt almost everywhere, in all countries, industries, and everyday life. However, while the impact of digitization is widespread, the benefits it yields are distributed unevenly. It is important to understand a country's digital readiness to help create a more inclusive future for all, which is the objective of Cisco's 2019 Global Digital Readiness Index.
To uncover key insights and build our understanding on what it means for a country to be digitally ready, a holistic model was created that includes components beyond technology, such as basic needs, human capital development, and the business and start-up environment. Although having access to technology and the infrastructure to support digital technologies is critical, if individuals' basic needs are not met (e.g. access to clean drinking water or lack of education or job opportunities), a country cannot fully take advantage of digital opportunities. This holistic model allows for an understanding of a country's level of digital readiness and what interventions and investments could help countries advance in their readiness.
In this second iteration of the study, it was found that globally, countries' scores vary on digital readiness with three stages emerging: Activate, Accelerate, and Amplify. No country scored perfectly. For countries in the lower stage of digital readiness (Activate), a focus on basic needs and human capital development is especially important. As technology is consistently advancing, there is a continuous need for developing skilled talent with the most current employable skills for the job market and creating new digital innovations. In addition to these foundational interventions, countries in the middle stage of digital readiness (Accelerate) would also benefit from investing in enhancing the ease of doing business. The study revealed that, no matter the stage of digital readiness, human capital development is essential to build a workforce capable of utilizing and creating technology on a continuous basis.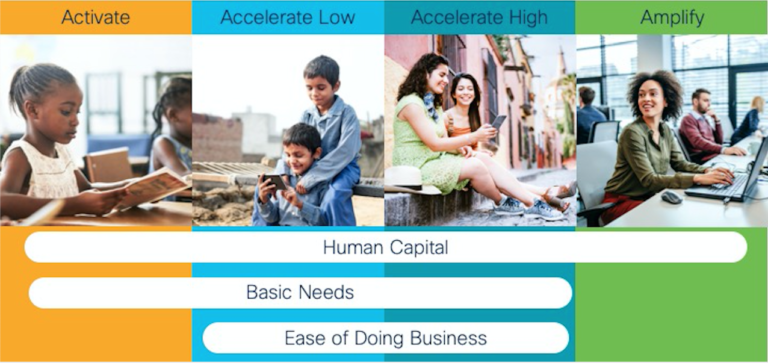 At Cisco, we believe it is important to contribute research to help the continuing dialogue on technology's future impact. We hope to serve as a catalyst for driving an inclusive digital economy. To do so, we conduct research to gain a better understanding of what it means to be digitally ready and what would be the most beneficial to help individuals and countries thrive in the digital world. We use these insights to ensure the relevance of our key Corporate Social Responsibility (CSR) investments, such as our Cisco Networking Academy program, where over two million students worldwide gain foundational digital and entrepreneurial skills that improve their career prospects and help fill global demand for technology professionals.
To help take advantage of the opportunities technology can bring, we are working toward empowering global problem solvers – individuals who are innovators and entrepreneurs – who will be key to fueling an inclusive digital economy. Jobs of the future are not fully understood and will change constantly, but individuals who learn innovation and entrepreneurship skills using technology to solve problems will be prepared no matter what the future holds.
We can use research to design our programs and investments to develop and support global problem solvers who apply digital solutions to address social problems and foster economic development. We have a bold goal to positively impact 1 billion people by 2025 through digital solutions.
If we empower global problem solvers and prepare them with the right skills, we can help them participate in the global economy and create economic opportunity for all.
Visit our Global Digital Readiness Index to view individual rankings via an interactive website.