Quality wireless is already considered a base expectation by consumers across industries. At Cisco we aim to provide our spectrum of customers with a whole range of high performing products, so they can select the product best suited for their organization. If you were to stop by the Enterprise Networking booth at Cisco Live Milan, you'd be able to examine our full portfolio of access points and notice that there are two that stand out from the others: the newly designed, 802.11ac integrated 3700 AP we introduced at Interop New York and one more, except this one can fit in your hand.
We are pleased to announce Cisco Aironet 700W Series Access Point, a wall mounted wireless and wired integrated platform. 700W Series is the industry's FIRST and ONLY dual radio, dual band 2.4/5 GHz Access Point with 4 GigE Ethernet ports for wired connectivity, like IP Phones, game consoles, entertainment devices or other connected devices. 700W Series can be powered either by Power over Ethernet (PoE) or by a local power adapter, while it also provides PoE out on one local port to power an additional connected device.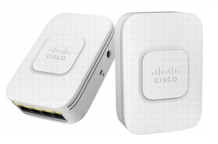 Cisco Aironet 700W Series has a sleek design in a compact form factor to provide high quality performance while fitting seamlessly into the surrounding fixtures in any venue. It comes with a special-built bracket for ease of mounting to numerous global wall-box standards, making the Cisco Aironet 700W Series is a perfect fit for hospitality, dorm rooms, and other Multi Dwelling Units (MDUs), providing in-room connectivity.
700W Series is leveraging award-winning RRM and Cisco Prime Infrastructure for high AP density deployments, ensuring seamless roaming, right-sized WiFi cells.
Cisco Aironet 700W Series is the latest addition to a comprehensive access point family, including 700 Series, 1600 Series, 2600 Series, as well as 3700 Series with 802.11ac standard.
To learn more about Cisco access points, visit www.cisco.com/go/ap
For the 700w datasheet: http://www.cisco.com/en/US/prod/collateral/wireless/ps5678/ps12968/data_sheet_c78-728968.html