It is a safe bet that your business is running some of its applications on Amazon Web Services (AWS). And that you are using Cisco technologies to connect and secure your connections to the AWS cloud. So I am happy to announce today that we are offering enterprise customers even deeper integrations between Cisco networking services and AWS. Together, we are offering more flexibility, security, and efficiency for hybrid networks than ever before.
Our deeper integration partnership with AWS will lead to cloud apps that perform better and more securely. Our goal is to make it more straightforward for you to deploy new apps on hybrid networks, to make apps more manageable using the Cisco network tools you already have, and to save your business money in the process.
We've been partnering with AWS for a long time. Our collaboration has helped our joint customers securely deploy, connect, and monitor applications across private data centers and AWS, with solutions like Cisco Hybrid Solution for Kubernetes on AWS, Cisco Cloud ACI on AWS, Cisco Cloud Services Router, Cisco Next Gen Firewall for threat protection, and more.


For Campus and Branch Networking: Cisco SD-WAN and AWS
Our first new integration is between Cisco's Software-Defined Wide-Area Networking (SD-WAN) and AWS Transit Gateway. Through this integration, IT teams will be able to automate and manage connectivity from branches to the AWS Cloud, using Cisco vManage SD-WAN Controller.
Network operators will be able to create end-to-end connectivity between users and cloud-hosted apps, while applying network segmentation and security policies to traffic flows. The system will also enable policy exchange between Cisco SD-WAN Controller and AWS Transit Gateway, which will allow IT teams to implement consistent network and data security rules.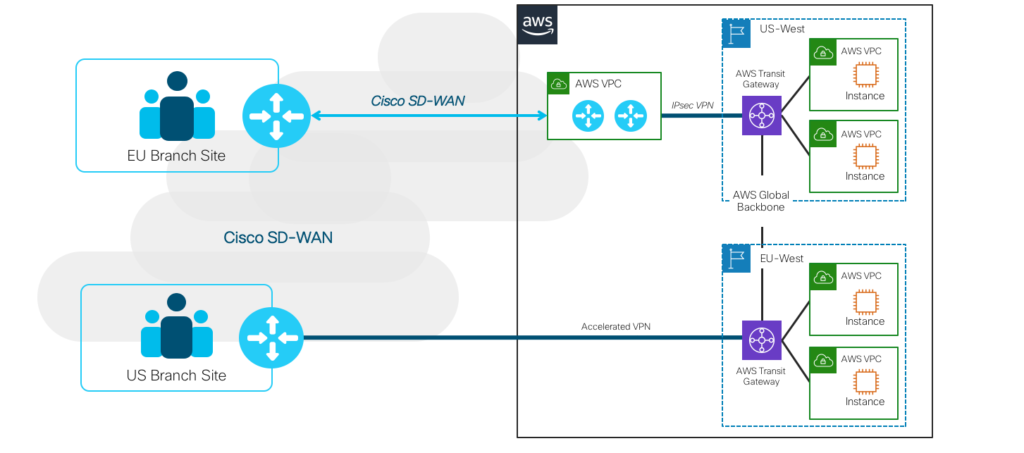 This solution will further improve application availability when using the AWS global backbone. And with this integration, IT teams will be able to make changes to all connectivity settings in minutes.


For the Datacenter and Cloud: Cisco ACI and AWS Outposts
The second integration extends Cisco's data center networking solution, ACI Anywhere, to AWS Outposts. Outposts are Amazon's on-premise services for running applications that require the lowest possible latency or that have local data-processing requirements. Earlier this year, we announced availability of Cisco Cloud ACI on AWS, which automates management of end-to-end connectivity and enforcement of consistent network security policies for applications running in on-premise data centers and AWS.
Now we are extending this solution to fully support AWS Outposts. Our customers can use Cisco's policy-driven automation controller, ACI, to translate their business intent and policy models into consistent on-premise and cloud-native constructs that are deployed across AWS applications. Using a common policy model drastically reduces complexity (and cost), while allowing us to provide a single management console to configure, monitor, and operate multiple environments spread across data centers and AWS.


For Security: Cisco Next-Generation Firewall and Amazon VPC Ingress Routing
For Cisco Security customers who already enjoy the benefits of unified security policy across AWS and on-premise data centers, AWS' new VPC Ingress Routing dramatically improves the granularity with which these security policies can be applied to cloud workloads. It makes the intrusion prevention, malware detection, and content security delivered by Cisco's Next-Generation Firewall more precise and effective.
We are adding AWS Security Group management to Cisco Defense Orchestrator (CDO). We are also extending the existing ACI policy-based automation for services insertion to the AWS cloud and AWS VPC Ingress Routing. These integrations will make deploying services in a hybrid cloud easier than ever.


An Ongoing Collaboration
I've been working with Dave Brown, vice president of EC2 Networking for AWS, for years on this partnership. The latest integrations are the result of a shared commitment to improving networking for our customers – and a lot of working together.
"As businesses of all sizes continue to build infrastructure in the cloud, they look to us to make it easier for them to operate their hybrid IT environments. This deeper integration between AWS and Cisco's flagship products does just that. It enables our customers to build infrastructure that can securely and easily extend from their campus and datacenter networks to AWS. This is an important partnership for us and I am excited to see what the future holds"
—Dave Brown, Vice President of EC2 Networking, AWS
We are thrilled to announce these integrations with Amazon today at the AWS re:Invent conference. We believe our shared customers will be able to increase network performance, security, and efficiency with these tools, and we are committed to growing this partnership to bring more innovations like these to this market.
Please join me and AWS Vice President of EC2 Networking, Dave Brown, during Dave's keynote on December 4th at AWS re:Invent, where we'll chat about the new integrations. And read more here: