It's been over a month since Mental Health Week, and I want to recognize and reflect upon the important conversations that have since taken place to promote mental health awareness, and the ongoing actions taken to help reduce the stigma surrounding this issue. Recently, during Cisco Live in San Diego, I was part of a panel discussion on pathways to better mental health in the workplace. Joining me in this open conversation were other People Leaders at Cisco, including our Senior Director of Global Benefits, Ted Kezios and Gaby Thompson, SVP of Human Resources.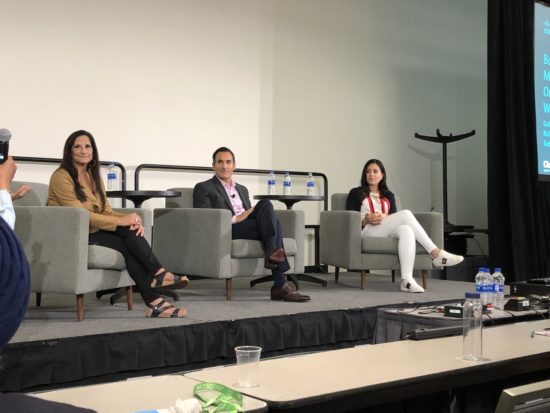 One theme that consistently came up was the importance of leadership in establishing a culture of acceptance and helping pave the way for these conversations.
Leadership is not just a position. Leadership is an action you take every day. One of my main focuses as a leader is ensuring that we speak about, and act, in ways that make this clear: mental health is health.
I'm particularly grateful to my team at Cisco for creating a culture and environment where talking about mental health in an open and honest way is not only allowed, it is encouraged. Chuck Robbins constantly advocates for change in the mental health sphere, whether that's by tweeting that mental health is health, or by regularly encouraging everyone to talk openly with those who might be struggling, or by asking employees to check in with themselves. It's part of how Cisco supports a culture of full spectrum diversity and fosters inclusion.
Cisco is committed to supporting mental health initiatives in the workplace, and I am committed to bringing attention to this issue in Canada. We raise awareness through webinars, have groups like our Connected Women employee group that are focused on mental health and well being, and encourage employees to use Webex, our meeting and video solution, to achieve a healthy work-life balance.
New mom and Cisco Canada employee Susannah Pennal, for example, came back to work after maternity leave and wrote a blog about how Webex allowed her to spend more time with her daughter. At Cisco, we have world-class global benefits that help promote and support mental health. And although we have taken some big steps towards progressing the mental health narrative and bringing these topics from the periphery to a broader national conversation, there is still much more to be done. The reality is, a stigma remains when people speak out about their mental health issues. It is the responsibility of leaders to use our platforms to make a difference.
Beyond leaders, we all need to break down this stigma for the mental health movement to continue to thrive. It doesn't matter who you are or what you do, your unique mental health story is powerful and will slowly chip away at this stigma. Getting involved is easy – all you need to do is continue having conversations about mental health. Have them with your team and within your organization. Remind yourself how important it is to make sure you are okay. I challenge you to keep the conversation going so we can increase wellness and improve workplace psychological health and safety.
Follow @RolaDagher