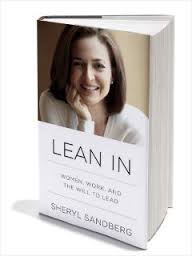 Long after she made it cool to be a woman in high tech, Sheryl Sandberg is now making it popular to talk about gender in the workplace. The Facebook COO is sparking wide discussion about female ambition with her blockbuster book "Lean In: Women, Work, and the Will to Lead".
At the recent All Things Digital Conference, Sandberg said women hold just 11-21% of the top jobs in high tech. She argued however that it may not be men – or even the so-called 'glass ceiling' – holding women back… but themselves. She focused on what she calls the invisible barrier in women's minds: a lack of confidence that may keep some women from aggressively pursuing opportunities. 
I've been at Cisco eight years, first as an engineer and now as a vice president in marketing. I moved into marketing because I saw the opportunity to move around and up. I was always comfortable in engineering but knew getting outside my comfort zone would help me to grow.
Sometimes women grow into a larger role by starting at a small company or starting their own company. Women-owned businesses account for almost 29% of all businesses nationwide. Marissa Meyer – another woman in high tech making headlines –was Google's first engineer and employee number 20. She is now Yahoo's new CEO. Facebook's first female engineer –Ruchi Sanghvi –is now head of operations at Dropbox.
These women left their comfort zone and took a risk.
Don't try to do it all on your own! Women should tap natural support networks including The Professional Business Women of California (PBWA). Last month they held a conference with the theme of "The Next Generation:  Unlocking the Full Potential of Women in the Workplace".
 I agree with Sheryl that women 'pull back' when they should sometimes 'lean in'. Women tend to be natural communicators and collaborators –all the more important in today's global and virtual workforce. "Lean in" to give yourself options. When women (and men) have more options, we make better choices.
Comments on this topic? Ideas on what you'd like to hear about in future blogs? Let me know in the comments below.
Follow Marie on Twitter @MarieHattar.