Now that we are connecting billions of things to the Internet, companies are faced with a huge opportunity and a huge dilemma. Connected things are generating an explosion of data that has the potential to save and earn tremendous amounts of money, time, and resources for companies. However, much of that potential is wasted because that data is most valuable in the moment it is generated, and the time it takes to send that data to the cloud for analysis is too long for real-time decision making.
Traditionally, data is sent to a centralized data store for analysis and insights. The new stream of data coming from the Internet of Things (IoT) is widely distributed, has a short shelf life, or is simply too big to move. For example, a single offshore oil rig generates one to two terabytes of data every day – the majority of which is time-sensitive for production and immediate safety. Moving that much data to a centralized data store and waiting for the results of analysis to come back is impractical. Analytics processing power must be built into the network at the oil rig itself so that the rig can operate at maximum efficiency and safety.
Edge computing is essential to ensure that the data is processed at the right place and time, making optimal use of available network resources and bandwidth. This requires strength both at the edge of the network and in the center (data center and/or cloud). Each organization needs a system that determines which data needs to be processed immediately — at the edge — and which data should be moved for deeper historical analysis. My advice to you? Deploy a connected infrastructure that enables insight from the data center to the edge.
In-stock inventory and shorter checkout lines at the store
To witness the economic advantages of edge computing, look no further than the surveillance cameras at a typical retail store. Instead of just using cameras to store footage in case of a theft or security event, store managers can run video analytics on the camera feeds to inform their real-time store operations management.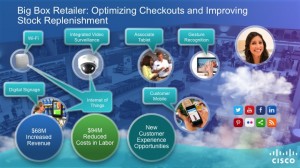 Video analytics help store managers with queue management, alerting them when customers' wait time at checkout will get so long that they abandon their purchases and leave. The alert allows the store manager to deploy more store associates to checkout before balk rate rises. In addition, analysis of video cameras trained on high-priority merchandise helps the manager track inventory levels, planogram compliance, and customer dwell time. This helps stores keep the right products in stock and send expert staff to areas where customers have high interest and would benefit from extra help to make a purchase decision.
A global retailer using these local analytics capabilities realized a $68 million increase in revenue and $98 million reduced labor costs. All this would be missed opportunities discovered after the fact if the store managers had to wait for video feeds to be sent to a central cloud for analysis.
Eliminating unplanned downtime for manufacturers
In the manufacturing industry, companies can embed analytics capabilities at the factory floor instead of waiting for the data to be aggregated and analyzed in a central data store. For a global operation, local agility is critical to keep plants running and maximize overall equipment effectiveness (OEE).
FANUC, a leading robotics company that supplies machines to manufacturers, uses big data analytics to identify maintenance procedures that can prevent breakdowns before they happen. As shown at the International Manufacturing Technology Show, the robots contain sensors that are constantly monitoring status and health of their own operations. When preventative maintenance practices are shared with FANUC's robots worldwide, the robots themselves can then make use of their own data stream and flag conditions that will require maintenance before they cause a breakdown. For a manufacturer that loses $20,000 for every minute of downtime, preventing unplanned downtime is a huge savings that make FANUC robots worth every penny.
Connected Analytics
Cisco Consulting Services recently surveyed 1230 people from seven IoT-intensive industries: Manufacturing, Public Sector, Transportation, Retail, Oil & Gas, Utilities, Metals, and Mining. Our survey respondents revealed three key challenges of dealing with data generated by the Internet of Things:
Automating the collection of data
Integrating the data from multiple sources
Analyzing the data to derive actionable insights
To help customers meet these challenges, this month Cisco introduced Connected Analytics for IoE. This family of pre-packaged analytics software gives organizations access to real-time information, predictions, and trends. For a true Internet of Everything, Connected Analytics embeds intelligence throughout your network from the data center to the edge.
I'm personally excited that Cisco's intelligent network expertise is the strongest answer to the IoT big data challenge facing enterprises today. Let's discover together how you can disrupt your industry by taking advantage of the data being generated at the edges of your network.